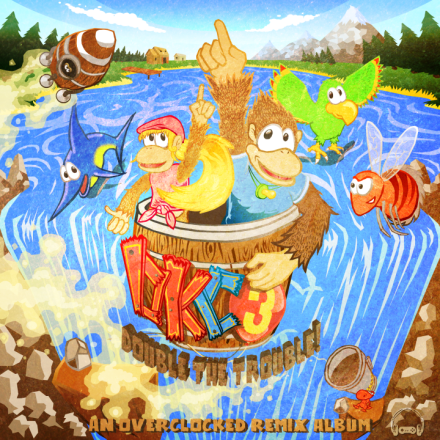 OC ReMix Presents Donkey Kong Country 3: Double the Trouble!
December 3, 2012
Contact:
press@ocremix.org
FAIRFAX, VA... OverClocked ReMix today released its 36th arrangement album,
Donkey Kong Country 3: Double the Trouble!
Directed by
Wes "Emunator" McDonald
, the nearly 5 1/2 hour-long double album pays tribute to every song from both the original
Donkey Kong Country 3: Dixie Kong's Double Trouble!
, developed by Rare and published by Nintendo in 1996 for the SNES, as well as the 2005 remake for the Game Boy Advance, which featured an entirely different soundtrack. Featuring 77 tracks from 69 artists,
Double the Trouble!
re-envisions the original compositions of
Eveline Novakovic
and
David Wise
in a wide variety of styles, including a new arrangement from David Wise himself and instrumental performances from Wise and his former colleague at Rare,
Robin Beanland
.
Double the Trouble!
is available for free download at
http://dkc3.ocremix.org
.
Double the Trouble!
is one of OC ReMix's largest and most stylistically-diverse releases to date, with genres spanning from classic rock to ethnic jazz, electro-house to country, and everything in between. The album also stands as the last entry of the OC ReMix community's
Donkey Kong Country
series albums, completing the trilogy that began with
Donkey Kong Country: Kong in Concert
in 2004 and
Donkey Kong Country 2: Serious Monkey Business
in 2010.
Double the Trouble!
was made by fans, for fans, and is not affiliated with or endorsed by Nintendo or Rare Ltd.; all original compositions are copyright their respective owners.
"The
Donkey Kong Country
series has always held a special place in my heart. Ever since I first picked up the controller at the age of 3, I found myself in love with everything about the games… the innovative level design, the gorgeous graphics, and especially the music. I would find myself pausing the game mid-level and listening to my favorite songs for hours on end. Given the stellar reputation of the previous two albums, I knew that this album had to be something special," said album director Wes McDonald, who discovered OC ReMix upon the release of the
Kong in Concert
album. "Words can't properly capture the scope of this album and the efforts of the artists that made it happen, so I'll let the music speak for itself. To every artist who contributed to the project, I'm so proud of what you've created. Thank you for helping make this the biggest and (hopefully) the best OC ReMix project to date!"
About OverClocked ReMix
Founded in 1999, OverClocked ReMix is an organization dedicated to the appreciation and promotion of video game music as an art form. Its primary focus is
ocremix.org
, a website featuring thousands of free fan arrangements, information on game music and composers, resources for aspiring artists, and a thriving community of video game music fans.
###