06-18-2012, 08:08 PM
OC ReMix Presents Final Fantasy: Random Encounter!
---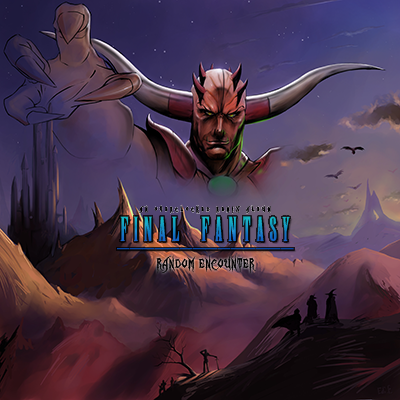 OC ReMix Presents Final Fantasy: Random Encounter!
June 18, 2012
Contact:
press@ocremix.org
FAIRFAX, VA... OverClocked ReMix today released its 35th arrangement album,
Final Fantasy: Random Encounter
. The album pays tribute to the original
Final Fantasy
, released by Square in 1987 for the Nintendo Famicom (a.k.a. the Nintendo Entertainment System). Featuring twenty-one tracks from twenty artists,
Random Encounter
represents the second directorial endeavor of
Brandon Strader
and is available for free download at
http://encounter.ocremix.org
.
Random Encounter
sports a diverse roster of musicians, showcasing veterans and newcomers from video game music communities OverClocked ReMix and The Shizz. The original
Final Fantasy
was the breakout game soundtrack for the then 28-year-old Nobuo Uematsu, who quickly became one of the most renowned game composers of all time. Album musicians honored Uematsu's influential soundtrack by arranging it in a number of styles, with a strong focus on guitar and heavy metal.
Random Encounter
was made by fans, for fans, and is not affiliated with or endorsed by Square Enix; all original compositions are copyright their respective owners.
"For the last two years, a group of brothers united in metal worked together to create the most brutal album to ever grace the halls of OverClocked ReMix. This album is the result of three things: 1) an immense love for Nobuo Uematsu and his work, 2) an immense love for metal, and 3) the kind of comraderie that only the most grim and frostbitten of metalheads will ever know," said director Brandon Strader. "Words can't express the level of gratitude I have for everyone who helped this album become what it is today. We're very happy with this album, and I personally consider most of these remixes to be the definitive fan-remix versions of these classic songs."
About OverClocked ReMix
Founded in 1999, OverClocked ReMix is an organization dedicated to the appreciation and promotion of video game music as an art form. Its primary focus is
ocremix.org
, a website featuring thousands of free fan arrangements, information on game music and composers, resources for aspiring artists, and a thriving community of video game music fans.
###
Sponsored Links

Please register to remove the above advertisement.
Posting Rules

You may not post new threads

You may not post replies

You may not post attachments

You may not edit your posts

---

HTML code is Off

---
All times are GMT. The time now is
05:35 PM
.