ANNUAL FUNDRAISER!! Help us take OCR to the next level by supporting us on
Sponsors: Bart Verbeek, Cynical Brit, Dave Oshry, From the Mind of Klink, Matt (aka Antidragon), Michael Beauchamp, TFBgaming, VinnyMac, Wesley "Bahamut" Cho... + hundreds of supporters! Thanks!!

Download MP3
1,929,341 bytes, 1:56, 128kbps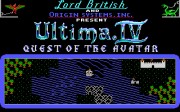 Subliminal Labs, who you may remember for their excellent Castlevania submission, give us this badass remix of the Ultima IV theme . . it's very deceptive, because it starts out pretty normal, with a nice traditional arrangement, then goes COMPLETELY INSANE, with loops and guitars and ambient effects and . . .well . . . you'll just have to hear it . . . a very nice soft/loud effect, and some marvelous processing, make this one *very* worthwhile.
OA
on 2007-04-18 11:53:48
Dev
on 2002-07-05 13:51:49