Download MP3
2,908,363 bytes, 2:57, 128kbps

Play Preview
Streaming preview on YouTube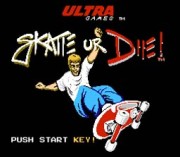 Now, i ask you - would subliminal labs disappoint, after several great ReMixes already contributed? I think not. Thisis the best contribution yet, taking the original theme from Ultragames' 1980's "radical" skating game and makin' it rock, with some nice distorted guitar chunks and beats! The game itself has a very nostalgic flavor to it . . . it wasn't exactly Tony Hawk, granted, but it was fun for a bit, and watching your little punk fall on his rump always made me chuckle. Grab it, man, or you'll be "undudical" or something like that . . .

Discussion:
Latest 13 comments/reviews; view the
complete thread
or
post your own
.
Despite some of the lackluster mixing, I actually really like this. Reminds of a song from a late 80's movie where there's a street chase going on or something (those no good mall cops chasing the rad dude on a skateboard who's just all IN YOUR FACE RADICAL). Doesn't age spectacularly, but I think that adds a bit of charm to this one, can't put my finger on why though.
Needs more C64 synth though. MORE.
- Level 99 on December 27, 2010
Synths are still <3 The guitar and drums now sound a bit strange now that we're used to all these high quality remixes, but I don't get tired of the arrangement between chrous repeats.
- Vilecat on December 27, 2010
My main gripe here is the arrangement as usual with mixes this old - it just doesn't keep things interesting with its repetitiveness.
- Bahamut on September 28, 2009
the opening is awesome, love the synths. kind of retro, then the guitar really livens things up. things were a little repetitive at points, but overall it was a good mix that was very enjoyable. Liked to outro too. Good work.
- justinj212 on January 20, 2009
The background line really stands out in a good way with this one. I think it holds the mix together. Don't know the source, but the rock feel works pretty well with the melody. Kudos on that. Main synth is a bit out of place, but not the worst match-up I've heard. Retro, and enjoyable.
- DragonAvenger on October 25, 2008
Not quite sure how i feel about this one. THe opening synth has some retro cool, but the guitar sample is decidedly undudeical. The lead synth is decently sequenced, but is a bit loud and lofi.
Obviously old school, but still charming.
- OA on May 1, 2007
Well, it's 2006 now (incase you haven't heard) and this remix is still hot as anything. This was one of the first few mixes I downloaded on this site and a couple years later I'm still enjoying it! Really nice work hear, it's an awsome song! (Thank god I'm not undudical...)
- BenHarris on March 4, 2006
This was a decent old-school cover of the original. Solid stuff for its time, including some beefed up guitar work compared to the SID version. I can see why the guitar isn't promiment here, as it reflects the style of the original. Lead synth at :59 didn't provided a good texture at all, but this was alright.
- Liontamer on October 19, 2005
I must say this is a great theme and I'm not easily impressed either. This has got to be one of the most coolest MP3's on this site, however, it doesn't fully grab my attention like some of the other Skate Or Die games' music, even Ski Or Die's music, like the inner tube race was better, plus, what fails to fully make this song memorable is it's guitar! I'm sorry to say but it doesn't grab me out of my seat!
- Mahjong No OujiSama Yoshi on November 18, 2003
A great remix, with a long intro that suddenly builds into a full tune. The only thing missing is, of course, the infamous "Skate... Or... Die!" 8-bit lyrics from the Skate Or Die 2 title theme. Check it, yo.
- oldtimer on July 22, 2002
I'm 99% certain the original composer was Rob Hubbard. He worked for Electronic Arts for a long time and did a lot of their c64 sid chip music. If I am not mistaken, the original sid chip version of this song was written in assembly language.... talk about hard core...
jdm
- jdm on July 22, 2002
I love the electronic keyboards in this, they just flow so well, bringing so many different beats together to make an awesome sounding piece! :)
- skawttieboy on July 3, 2002
Skate or Die 'Subcrunch'
If you don't download this, then you are not a true skater punk. If you wannabe a real sk8ter, you must have this remix! It's pretty good, mixing the theme quite well. Very electronic sounding, but that's OK... electronic iz good.
- Joe Redifer on May 13, 2002