ANNUAL FUNDRAISER!! Help us take OCR to the next level by supporting us on
Sponsors: Bart Verbeek, Cynical Brit, Dave Oshry, From the Mind of Klink, Matt (aka Antidragon), Michael Beauchamp, TFBgaming, VinnyMac, Wesley "Bahamut" Cho... + hundreds of supporters! Thanks!!

Download MP3
2,480,609 bytes, 2:30, 128kbps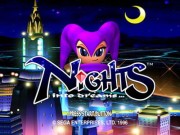 Once upon a time there was a ReMixer named McVaffe . . . or was it Jade Gemini?? No matter the nick, McV is responsible for a good number of the badass tracks on the site. But he's been laying low for awhile (yes, even for the hardcore, ReMixing can't always be a priority). Actually, he gave me a heads up that he was goin' on a bit of hiatus, so I held up some of his submissions in the hope that I could release them later and thus spark him back into action. Well, he just emailed me wondering why the heck I hadn't posted them yet, so I guess that plan kinda failed :) This is an excellent folksy-techno ReMix of one of the coolest games ever, NiGHTS, which was one BIG reason to own a Saturn - very fun, very original, very good music. And no real sequel, yet! A great ReMix that even features excellent dueling piano and harp solos and just really captures the floating, free feeling that the game so successfully achieved.