ReMix:

Doom 'Synthetic Demon'

Download MP3
5,910,528 bytes, 4:52, 160kbps

Play Preview
Streaming preview on YouTube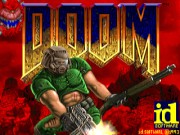 Oh yeah - don't listen to me, just download it. Peeples' latest is a powerhouse DOOM ReMix with the trademark heavy-hitting, well-programmed, crunchy but nuanced sound Scott has all but perfected over the years. S.P. writes:

I present my next mix, Entitled "Synthetic Demon (E1M5)" it's from the original Doom, Episode 1, Mission 5. The original was a rather boring atmospheric peice, and i changed it into an upbeat techno mix with a little orchestra and distortion tossed in for good effect :)

. . . and I'd say he sums it up nicely. Not just bread-and-butter effects here, but excellent compression and intelligent mixing+matching of reverb and delay. The drums at first sound like they might stay fairly static, and the thing of it is, even if they did this would have worked, but Scott doesn't do anything halfway, and there's quite a bit of variance and layering. Strings and orchestral elements may be panned a little too far left, but they're excellent as well, mixing seamlessly with Scott's ever-growing smorgasbord of electro-FX mayhem. Love that sonar ping too :) Not much else to say - highly recommended.