ReMix:

Mega Man 2 'Teardrinker'

Download MP3
5,368,394 bytes, 4:25, 160kbps

Play Preview
Streaming preview on YouTube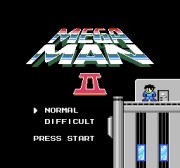 Hot on the heels (well, on the OCR timeline at least) of his last ReMix, The Wingless gives us a very liberal interpretation of Bubbleman that I'd probably describe as hybrid electro-acoustic instrumental - drums are VERY much secondary to the chimelike piano arpeggio, NES-chiptune melody, harp, and orchestral strings and timpani, and the arranging emphasis is on playing quite a bit with chord progression and the overall evolution of the piece. There are some intervals that do border on atonal - Orkybash writes:

Though I usually like stuff The Wingless does, I gotta say that this took a couple listens to appreciate. There's a lot of notes that seem to clash, but somehow it works. or maybe I'm just tired. At any rate, I'm liking it now - it's something different, it's definitely *very* interesting, and it grows on you. And personally, I think one of the signs of a really good piece of music is it's deep enough that it has room to grow after several listens.

. . . and I'd tend to concur with that conclusion: not gonna be everyone's cup of tea, a little on the "avant-garde" side of chromatic relationships, but decidedly interesting and obviously something that is sonically on the level and involved planning and juxtaposition. With the wrong instruments and mixing, this is the type of arrangement that would die a thousand, slow, horrible deaths. Thankfully, The Wingless makes it work, and the results are certainly worth investigating for the curious. Also, a good example of how an oft-ReMixed tune can truly still go into unexpected territory.