ANNUAL FUNDRAISER!! Help us take OCR to the next level by supporting us on
Sponsors: Bart Verbeek, Cynical Brit, Dave Oshry, From the Mind of Klink, Matt (aka Antidragon), Michael Beauchamp, TFBgaming, VinnyMac, Wesley "Bahamut" Cho... + hundreds of supporters! Thanks!!

Download MP3
4,977,957 bytes, 4:05, 160kbps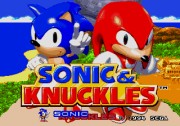 This one REALLY grew on me. I think it was a little too different and 'whimsical' at times for me to really get into the first go-round, but I've had it on repeat while in the process of posting it after successful evaluation by the judges panel, and I'm much more appreciative now. While citing relative simplicity and lack of salient harmony or counter-melody like a couple others, judge Vigilante notes, "I really really really like the tempo/feel changes. this mix has excellent dynamics, which is something i dont hear often enough in the mixes on the judging board." - the tempo/tone change is what sort of jarred me the first time, but on further listens it's unquestionably the strength and memorable quality of the arrangement, and serves to assuage the simplicity elsewhere. I like some of the synth timbres, particularly an FM-ish tone that sounds like something you'd actually hear the Genesis' sound chip produce, but a bit higher quality. Dain has apparently been wanting to do something in sort of a semi-dub style, and this has aspects of that, while being hard to pin down exclusively to any single genre. I think I ended up actually liking this more than the judges did after hearing it a few times; it's a really conspicuous, tempo-changing, flamboyant piece of electronica that tries a couple new things and gets most of them right, and is certainly a change of pace for Beatdrop. Not everyone's cup of tea, and in my opinion definitely benefits from repeated listening, but on the average a different sort of mix from a talented ReMixer that's as worthy as arrangements in his forte genres. Good stuff.