ReMix:

Doom 'demonik elektronik'

Download MP3
5,373,952 bytes, 4:33, 155kbps

Play Preview
Streaming preview on YouTube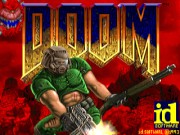 analoq's just gotten more and more dangerous with each passing ReMix. Leave him alone for awhile, and he comes up with something different, creative, quality, and highly indicative of both an arsenal of tools and more importantly the skillz to put them to good use. This Doom ReMix is an instant classic, easily one of the best from the series that I've ever heard, and features some truly varied, inspired processing, Rammstein-esque vocals, and a bassline that drives the whole thing and is the business. It's a very good thing when a bassline is the business, and this one is. Layered, filtered synths, electronic drums, and gated guitar hits fill everything out, and there's also more than one breakdown and the PERFECT ending, a mellow, maudlin chorus of fuzzy synth strings. Though it was unanimously approved by the panel, there was some amusing dialogue regarding the "lyrics":
Vigilante: as far as i can tell, the last three lines are: Dracula, kumbaya, rastaman.
analoq: the words are from the 'infernal names' section of the lavey satanic bible. sort of a demonic roll call. it seemed appropriate for doom. i'm probably pronouncing some of them wrong but they're just for effect anyways...
I could have sworn I heard "kumbaya" and "rastaman", too, so perhaps Jesse shouldn't feel too bad. At any rate, the effect works as intended, and the mix has that futuristic-satanic dichotomy balanced just right. Great mix, and the title is even cool because it's like "onik" instead of "onic" and stuff, and we all know that's the business, too. Highly recommended.