ANNUAL FUNDRAISER!! Help us take OCR to the next level by supporting us on
Sponsors: Bart Verbeek, Cynical Brit, Dave Oshry, From the Mind of Klink, Matt (aka Antidragon), Michael Beauchamp, TFBgaming, VinnyMac, Wesley "Bahamut" Cho... + hundreds of supporters! Thanks!!

Download MP3
5,834,020 bytes, 4:48, 160kbps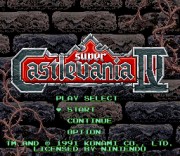 Man, I'm a lucky guy. I love the source material here - it's one of my favorite tracks from perhaps my favorite SNES soundtrack, and now in addition to Nigel Simmons' excellent orchestral coverage of this, the cave theme from Super Castlevania 4, I've got another fantastic mix of the same theme. Nicolas Ferranti, alias Nixdorux, also gives us a compelling orchestral mix. Nix's ReMix takes a bit longer to become recognizable, with an extended, very suspenseful intro that lays down an ominous progression, with the main underlying pattern from the source coming in at 0'57" as we then segue to the more identifiable harp/wind lead combination. Even then, however, Nicolas throws in his own embellishments, with strings ebbing and flowing uneasily beneath the delicate, tentative melody. Circa 2'30" things get more dramatic, with choral/percussive hits and a build towards a second iteration that's got underlying timpani rumblings, a moving wind line, and a general sense of more excitement and direction. I love how Nicolas, with arrangement alone, manages to so adeptly change the tone from suspicious to tense to frantic with common but difficult-to-implement-effectively film scoring techniques. Things end on a more serene note as the tone descends into calmer waters, with only ripples reverberating the previous, more sinister miasma. Nicolas never fails to arrange both very interpretively and creatively, while at the same time ensuring the source material is recognizable, which is a difficult balancing act to get so consistently right. He also manages to construct an equally effective orchestral mix that is nonetheless different from Nigel's take. Both are excellent mixes of one of my favorite SNES tracks; it's a subtle piece, but it fit the specific context in the game like a glove, and represents a unique gem in the more up-tempo world of gothic, organ-driven Castlevanian composition. Great work.