ReMix:

Golden Sun 'Sol Sanctum Guitar'

Download MP3
4,370,432 bytes, 2:59, 192kbps

Play Preview
Streaming preview on YouTube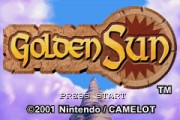 Long time no see - EgM's not sent us anything in awhile, but breaks that spell with the first of two Gameboy Advance mixes being posted tonight, his being an intuitively - okay, fairly unimaginatively - titled ReMix of the Sol Sanctum theme from Golden Sun. While he may not have put a lot of effort into naming his creation, he did put it into the music, as this guitar-driven meditation on the original features polished electric and acoustic guitar performances and a lovely violin to boot, in addition to using dynamics and changing intensity to its favor. There's also piano, which is present here and there but used largely to end the just-under-three-minute mix on a more somber, softer note, as well as drums that do a good job of getting out of the way when needed but upping the punch during the ballsier bits. Larry says:
"The performance was per Eric's usual quality offerings, and this time I had no problems on the arrangement front. Though still a conservative take on the material, the arrangement expanded upon the sounds of the original and provided adequate variation in the composition and instrumentation. The mix actually seems to go by faster than 3 minutes as you casually listen. Good job on this straightforward relaxation piece."
And Mr. Nowshky gives Eric the nod as well:
"First thing I notice is a very solid guitar tone. There's decent playing, and a good use of dynamics. No, there's a great use of dynamics. It's refreshing to hear someone use intensity as a musical tool and not just an excuse to be loud. "
Classic EgM, but with an updated, more intimate and professional sound, and a bit less conservative arrangement than we've heard in the past. Great work, and an excellent first mix from the popular Golden Sun RPG.