Download MP3
5,695,248 bytes, 3:51, 195kbps

Play Preview
Streaming preview on YouTube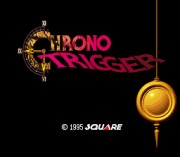 Mr. Boyd just keeps on improving and widening his arsenal - he's prolific, to be sure, but not at the expense of quality or a general sense of progress. It's not easy to track something as abstract as musical progress when an artist starts off at a pretty high level to begin with, but I suppose what I'm referring to is his overall sound and how he's continued to evolve it by incorporating non-rock elements with a greater degree of seamless, appropriate integration. Here, he takes on Chrono Trigger:
"This was my entry for the Dwelling of Duels Free Month in June and RPGamers' Splendid Performance Audition 2: In The Band.

It's a remix of Magus' theme, pretty close to the original with liberties taken here and there. Near the end I throw a little bit of Frog's Theme in as well."
Introing with some peculiar, jet-exhaust guitar fx, wailing guitars and drums enter soonafter in a menacing, pulsating vibe that well conveys an evil and ominous intent. Then at 0'46" there's an oboe/choral break that's mellower, joined by rolling toms and acoustic strumming, then back to the demonic vibe at 1'16" with screeching, squealing chugging and percussion that makes excellent use of the 6/8 time signature. Guitar solo circa 2'01" that gets increasingly nasty (good nasty, not bad nasty), a repetition of the acoustic strumming portion, now joined with electric guitar, and then the mixes closes out with the addition of some unsettling flanging effects that add a twist to the already sepulchral groove Darangen's conjured up. At under four minutes, things go by pretty quickly, but this piece actually reminds me of the ending section from Guns N' Roses "November Rain" in its minor-key menace and ominous forward momentum, attained there in a relatively brief expanse of time, but no less effective because of it. More quality work from Mike and a fitting tribute to Magus as well.