Download MP3
5,898,249 bytes, 6:01, 129kbps

Play Preview
Streaming preview on YouTube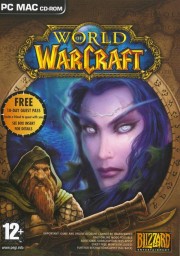 What can one say about John Burnett that hasn't already been said, in some corner of the world? He lives by his own moral code: a freelancer, a diamond in the rough, charting his own rugged path on the high seas of fate, propelled forward by a tireless engine of motivation, hunger, and need. His turbines run on curiosity, his pistons pump with the galvanized knowledge of possibility, enthralled with the potential he hurtles ever towards... of course, he's also just a messed-up African-American Midway employee who got tossed off the judges panel for inactivity, who still manages to haunt the vaunted halls of #ocremix... where he is known more commonly as 'The Wangless'... but that's merely *context* for the larger, more profound picture.
The Dubya gets first dibs on two popular PC titles in one with this mix, as it covers themes from both World of Warcraft and Guild Wars as well. The ReMixer self-promotes:
"Hey kids! Wingless here. The following is a list of fun things you can do with this song:

1.) Email the folks at NCsoft and the Guildwars website and say, "Hey, there's a pretty decent remix of Guildwars up on overclocked and www.thewingless.com . You should have a listen."

2.) Email the folks at Blizzard and the World of Warcraft website and say, "Hey, there's a pretty decent remix of World of Warcraft up on overclocked and www.thewingless.com . You should have a listen."

3.) Email the Midway Games studio in Chicago and say, "Hey, there's a pretty decent composer in your Building. You should listen to his stuff at overclocked and www.thewingless.com and maybe let him try a track or two."
Why do I get the feeling we're being used like a toy? Nevermind the masturpimping; John's put together a lovely orchestral arrangement that pretty seamlessly integrates the two games' soundtracks into one cohesive whole, with his trademark piano taking a lead role often, and primarily ensemble playing from strings, beautiful french horns, and winds. There's plenty of solo sections, however, like 0'53", where flute and alto flute duet, with falling harp lines and piano, creating a very icy, wintry feel. Actually, this could easily have worked as an overture to the recent Chronic-what?-cles of Narnia film; it's got a very cinematic feel, lots of motion, but also more specifically summons the season of Winter in many sections. It's been a long time since John showed himself 'round these parts, but he hasn't lost his touch or his nerve, and I happen to know for a fact that there's more where this'un came from. Mr. Burnett's done a fantastic job arranging two already lush, elaborate soundtracks into something new, a not-insignificant feat, and while I'm sure he's got parts that are much more in need of a good stroke than his ego, you nevertheless have to dole out the large kudos for a wonderful, varied, and imaginative ReMix.