ReMix:

The Addams Family 'Nightmare on Cemetery Lane'

Download MP3
6,169,950 bytes, 4:24, 185kbps

Play Preview
Streaming preview on YouTube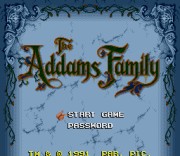 Ryan's first ReMix was posted way back in June of '06, but he's back with our first arrangement from the Addams Family SNES game:
"I always wanted to do something from this game. I used to rent it along with Super Mario World when the SNES first came out and I always love it. I did try to get this one to work a while back but I guess my skills hadn't developed far enough and it was quickly abandoned but not forgotten. I also wanted to do something with a similar, high energy, 'clanging' sound like that found on the disaster sequences from Titanic (and Courage Under Fire) by James Horner. This, surprisingly, turned out to be it. Hope you guys like it."
James Horner is the man, though in my mind more for Searching for Bobby Fischer and Sneakers. This arrangement is neat because it's very directly and overtly targeting a cinematic score style and instrumentation. Sometimes we get orchestral arrangements that have a soundtrack feel to them, but this one is more blatant about its inspiration and composition being deeply rooted in film lore + score. As a submission, this one would have been a no-brainer, save that Ryan played the arrangement very close at several points, leaving instrumentation and samples (used skilfully, albeit) to do the heavy lifting. Judging would have been a lot easier had Ryan deviated a little more, but Andy still felt there was enough here:
"After a few listens I have to say that I am impressed with the production quality improvement here. The upgrade to better samples certainly helped, but I know a lot of people who do not use these samples well, so clearly you're learning to use what you have well. Mixing is good and the dynamic range is tasteful. We get a LOT of bad orch subs but this is not one of them, at least not in the technical/implementation sense. I disagree with Vig that the orchestration is "sloppy". It seems pretty detailed to me and the dynamics from section to section are impressive.

I do however share some concerns about the arrangement. Many rhythms and harmonies are identical and it generally mimics the structure of the original for the first half. That makes me uneasy. However, I really can't say that this is below our standard of interpretation... it clearly does a lot with the theme as the mix develops. I would be happier if more of that creativity was applied to the beginning but as it stands this is a solid mix."
So, while the first half of the mix could have done a little more with the source, Random Hero pulls it through in the later, latter bits, and maintains consistently high production throughout. Good to see Ryan resurfacing after awhile, and great to see more obscure source material getting some love.

Discussion:
Latest 14 comments/reviews; view the
complete thread
or
post your own
.
Some nice orchestral work here. I don't know the source, but as a standalone I could see this in a movie any day. A lot of tension in this one, which is really brought out by the low strings and oboe riff used throughout. Nice work, check this one out.
- DragonAvenger on December 5, 2009
This is a very grand take on the cemetery theme -- excellent work! The orchestral take on this is quite well done, and it stays just close enough to the source to be recognizable while taking enough liberties to imbue this track with a feel of something you may hear in an orchestra hall.
- uthlu on June 22, 2008
haha Nice.
But you forgot the kids! lol JK
- Random Hero on April 10, 2008
Very cool song. I listen to it several times. Wonderful.
I've even made a drawing about this mix as a tribute:
[img]http://img409.imageshack.us/img409/4329/addamslm6.png[/img]
- Txai on April 9, 2008
I honestly don't remember playing this game much, I probly didn't even get past the first level (infamously bad player, remember?) anyway, I don't remember the music. But this song makes me want to find that game and listen to this track. The remix you've made is breathtaking in it's cinematic qualities, I love what you've done here.
- MechaFone on December 8, 2007
Great orchestration, excellent bite on your low strings, and a super feel throughout. I love the crescendos and the full hits, and the 3 note oboe motif is as mentioned before very well used as a subtle hook.
I hope I can someday master my orchestral samples and use them as effortlessly as you seem to. Very awesome work.
- OA on October 25, 2007
The 3 note run on the clarinet that is heard throughout this piece is gorgeous. It really brings out the mood of the piece.
- Less Ashamed Of Self on September 5, 2007
Cerrax;309259 wrote: God digity damn son!
Haha, Nice. Thanx guys. I really enjoyed this song too. It was the easiest one I ever did; It just flowed much more smoothy then all the other things I have tried. Anyway glad you like it. Any questions, let me know
Later
Ryan aka Random Hero
- Random Hero on August 22, 2007
God digity damn son! High energy and meticulous orchestration! A+ Great work! I love James Horner (especially his work on Titanic and Apollo 13) and this is definitely his kind of style!
- Cerrax on August 21, 2007
Brilliant reinterpretation of the theme. I wasn't too crazy about the original from the game, either. It lacks the energy that this remix has, so it's a nice change to say the least.
- CC Ricers on August 20, 2007
The orchestration is lovely. It's all kinds of tight in my book. Congrats mate!
- tweex on August 18, 2007
Adams Family for the snes was one of my fav. games that nobody else liked it seemed. and I always did love the music from this game. I'm very happy to finally hear something quality from it. Very nice job.
-Derek-
- derako on August 18, 2007
Watching the [URL="http://tasvideos.org/903M.html"]time attack[/URL] for this game, this mix would have fit very well in place of the original. A great upgrade arrangement that THANKFULLY did its own thing in the second half to save it. Very well put together, and always a enjoyable listen, Ryan. Don't listen to Vigilante about your orchestration. He smells like cat pee.
- Liontamer on August 18, 2007
What did you think? Post your opinion of this ReMix.
- djpretzel on August 17, 2007