Download MP3
7,086,537 bytes, 4:14, 220kbps

Play Preview
Streaming preview on YouTube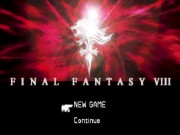 As a reminder, April is "Support OCR" month, where we ask you to donate whatever you think is appropriate to help support the site. We've raised just over $885 so far this month, which is down a bit since last year, so hopefully more folks will chip in!
But hey, as much as we love doing this and appreciate all the help we can get, we do realize that there is in fact more to life than VGM (gasp!). There are other, much larger causes out there to support, and one of the best & most important is research towards developing a cure for cancer. This is Josh Whelchel's first posted mix here on OCR, but many of you may know him from his appearance at MAGFest earlier this year and his work as an indie game composer on games like The Spirit Engine 2. There's a lot to say about this FF8 pop/vocal mix (which is actually by Poolside, a group comprised of Whelchel and Melinda Hershey), but I'm gonna give Josh the stage for just a sec to talk about Songs for the Cure:
"Aquaria Composer Alec Holowka and I are both on a cancer fundraiser this year called the "Indie Music Cancer Drive," which last year featured Mustin, Big Giant Circles, and 2D Boy's Kyle Gabler (World of Goo, anyone?) as well (who may come on again in 2010). Please check it out at www.cancerdrive.org."
Well, it's 2010, and you can check the list of artists out for yourself at the URL provided - I think you'll see a lot of familiar faces! $10 for the downloadable album and $18 for the physical is really a good deal, because you know what? Even if you're a cold-hearted misanthrope with no philanthropic or even personal interest in the cause, this is still great music by amazing artists. Hopefully that doesn't describe you, and you both appreciate & support curing one of modern man's greatest enduring afflictions, but it's nice that the music for this fundraiser easily stands on its own - check out the tracks and hear for yourself. There are very few people I know who haven't been touched by cancer in some way in their lives, and Josh has made it easy for all of us to chip in towards finding a cure by attaching a great collection of songs to donations.
Right then; while it's a great cause *and* great music, and I'm personally optimistic about a cure being found in our lifetime, the whole topic CAN be a bit of a downer. That's where this bubbly Final Fantasy VIII pop anthem with generous amounts of auto-tuning comes in to brighten your day. It certainly brightened mine - while I'm sure those who are opposed to vocals and/or auto-tuning in their free VGM ReMixes might not be thrilled, I think a lot of folks will dig it. I instantly thought of Vinnie, since he and diotrans form Flickerfall and make some good upbeat pop themselves. He writes:
"Fun as hell. Pure ear-candy. The melody gets relegated to being the supporting piece, but it's still there the whole time. I wouldn't be surprised if this song gets some haters on account of it being chipper Autotune pop, but fuck 'em. OCR needs more unabashedly cheery music. YYYYYES"
Vinnie's droppin' the F-bomb, so you know it's ON. But wait - let's hear from the artist himsef. Josh explains the track's origins:
"Poolside is a project I started a few years ago as a way to express a more mainstream sound that I enjoyed, but it quickly became an electropop-mirror of what I was doing compositionally. When Melinda joined on the Poolside project we wrote a few songs together, but nothing has quite "shined" like this one, and I think that is mostly due to its genuine and heartfelt spirit - instead of singing about dancing and having a fun time, I poured my pen into a feeling that was very real and very, very strong. Naturally, this song fell into place from there.

Taking the song "Fragments of Song" which was originally in 3/4 to the more mainstream 4/4 opened it up to some interesting and catchy melodies and I think we were really able to take advantage of it, as well as using the time modulation as a reason to add our favorite "glitch" sound. Production-wise we are sort of looking at a combination of 3OH!3 and one of those more modern rock bands, like Boys Like Girls or Owl City. I also think about all of those songs that become hits on the radio that have samples of other previously popular songs and wonder, how cool would it be if VGM did that, too?"
As long as it doesn't result in Timbaland-gate part deux, I'm all for it. Usage of auto-tune and stutter are definitely over-the-top, but it's part of the uber-cheer and gung-honess that goes with the territory. You can either shrivel back in dourpuss dismissal of "trite" effects OR (preferably...) roll with it and bask in the glory of maximalist major-key bliss. Jovette Rivera comes to mind as another ReMixer who puts together tracks that sink or swim on one's ability to get over one's self and enjoy some super-enthusiastic pop without overanalyzing things. When the key modulates up for another repeat of the chorus at 2'43", this time w/ Melinda joining in on vocal counter-melody, you're certainly either with 'em or you ain't - it's not the type of music you can listen to half-heartedly.
Personally, I had a lot of fun, and am looking forward to hearing more from Josh. Check out the mix, check out Poolside, and most importantly, check out www.cancerdrive.org.