ReMix:

Super Mario Kart 'Funky Mario Circuit (Radio Edit)'

Download MP3
4,202,496 bytes, 2:52, 192kbps

Play Preview
Streaming preview on YouTube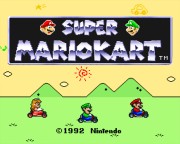 The times when I am busiest with OCR are usually the times when, contrastingly, you'll see fewer mixes posted. I've been coding some real, legitimate, actual PHP that parses chiptune data, so we can present some of that on chiptune detail pages, if you must know. I never knew that extended ID666 tags were at the end of SPCs (standard ones are at the beginning) until today, even though it's right there in the specification; go figure.
When not dealing with binary metadata sandwiches, however, I've been checking out The OneUps' new album, which is very intuitively titled Super Mario Kart Album. Because, you see, it's an album of Super Mario Kart mixes. If I haven't lost you in that circuitous bit of naming logic, proceed to either www.theoneups.com or theoneups.bandcamp.com (or BOTH!) and check it out yourself. Also, the guys will be playing a FREE, ALL AGES show at the Microsoft Campus in Mountain View, CA (San Francisco) on Sunday May 16 at 3:00 PM PDT with Quarter Circle Jab, so if you're West Coast and proximate, be there.

As for this mix, it's a vintage vinyl 70s funk jam, OneUps style, so what's not to like? That's a low effort analysis, though, so I'll break it down just a bit - clean funk guitar intros, followed by a wah EP riff then an acoustic drums riff, wah guitar, and funky bass. Definitely NOT a sequenced, quantized feel - things range from tight to loose, funk to more of a jazz vibe. Production also has the hallmarks of recorded performances, which is mostly a good thing; one minor nitpick, pretty much the only one, is that the stereo spectrum is fairly compressed - nothing goes too far left or right, which makes it feel a little cramped at times. Awesome performances, playful + dynamic arrangement, varied instrumentation, and top rate musicianship are all highlights, and that's all you really need to know. Check it out, check out the truly badass music video, and explore the full album for more!