ReMix:

Metal Gear 'Snake Infiltrates'

Download MP3
3,663,872 bytes, 2:30, 192kbps

Play Preview
Streaming preview on YouTube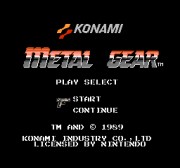 "Snake Infiltrates"...a cancelled adult film from the late 90s? Probably not, but I can't say for sure. I can however personally attest to it being the latest cinematic masterpiece from Rich Douglas, alias Beckett007, who's been serenading us with epic, Hollywoodesque arrangements since 2007. This marks his sixth posted mix, and it's from the appropriately dramatic/cinematic Metal Gear series' first outing:
"By now, you're all VERY familiar with how I like to go about my remixes... take source music and turn it into something suited for a film score. In the case of the original Metal Gear on the NES, there's TONS of great source material there. For this one, I thought it might be really neat to approach it as if it were scored by Harry Gregson Williams or Hans Zimmer, and update the "Outside" cue from the original title to something that might be heard in peace walker or any of the more recent Metal Gear titles. It translates REALLY well! I also took the sneaky vibe of the original and turned it into a powerful action cue at the tail end of my remix as it hypothetically follows snake as he infiltrates the enemy base. There's tons going on here which made it a crazy challenge to mix, but I'm extremely happy with the end result."
Of course, that's more or less the direction the series' music took with the Solid games, so it makes sense to go back and revisit the origin with the style and approach of its own modern-day incarnation. Very cueish, militant vibe, with the initial sneakiness getting bolder and more determined, and choral components shining through, then at 1'14" a quick tempo change into action-packed, racing drama, complete with Gladiator-esque Lisa Gerrardness. Rich's mixes certainly paint pictures, in this case taking the 8-bit, retro world of the first Metal Gear and pulling it straight into MGS territory, with some overt Zimmerisms and excellent technique blending choral and orchestral timbres. Excellent work from Mr. Douglas, who continues to impress, express, and produce some very slick, conceptual arrangements.

Discussion:
Latest 11 comments/reviews; view the
complete thread
or
post your own
.
This really fits in a filmesque MGS game so I would say that Beckett007 did a great job in converting the song with that goal in mind.
- Bahamut on July 15, 2012
Uh-huh, I'm really hearing Zimmer in those dark strings for sure. That being said, this is an absolutely fantastic ReMix! It really does sound like it would fit in a soundtrack, especially the more it picks up with the tempo change and builds towards the end. The drums work and adding the vocalizing was awesome, but I really have to echo that this is a bit short in the sense that you're almost expecting (and wanting) more because the first two minutes seemed to build up so well, then end. A little teasing, but it was still a solid song.
- Crulex on December 13, 2011
After hearing what you did with Wolfenstein a few days ago, I'm actually keen to hear what else you have. Shame this one didn't seem to get much love - I mean, it's Metal Gear for crying out loud! :O
But yes, listening to the interpretation of the source, I do indeed can sense that Hans Zimmer vibe towards it with the string and low-register work in the writing and the more minimalist way of writing.
I got to admit, you got me laughing at 1:20 though - I could almost imagine Snake being caught, guards with explanation mark bubbles above their heads, as if it was remade in the style of the Metal Gear Solid games. The calm parts after it managed to capture something more subtle and triumphant, if not a little brief. I say you got the sneaking part down to a T in regards to the writing - nice!
I do however am with the same consensus with most of the other people in regards to the track length, but to be honest, I don't even know how else it can be extended without making a completely different B section out of it. But what we have in this small package is a lush arrangement, complete with a great amount of realism involved (I'm especially calling kudos on the string and percussion work), and I can say that it's short but [i]very[/i] sweet.
Beckett, you've got to have some contributions lined up for 2012; from what I've seen of you, I am seeing a promising symphonic arranger :D
- Rexy on December 13, 2011
I made the mistake of not looking at how long of a time this track was. That normally isn't a big deal, but when this ended, I thought my computer had cut it off early. I think OA really said it best; this is a giant tease. What's there is fantastic, and the beginning bit felt pretty awesome and quirky (somehow), and then its done and I WANT MOAR! Y U NO HAVE MOAR SONG? :tomatoface:
- HitoriJaNai on December 7, 2011
This mix is a massive tease. It's incredibly well done, but it really needs to be about twice as long. I guess it's a good thing leaving your audience wanting more, but damn, you *really* are leaving me wanting more.
- OA on December 7, 2011
I downloaded a bunch of remixes, cued them up and went to hang out the laundry. When this one started playing, I was like "Yep, that has to be the one by Beckett007."
I like the singing/chanting, and how the remix goes full on movie-OST around the 1:50 mark.
Beckett's mixes are always so short. I want him to make some 7 minute epos some day, damnit.
- Martin Penwald on April 20, 2011
Overall, I'll say that it was decent.
For the most part, it had a nice feel to it. However, there were a couple arrangements that were iffy, notationally. As for the drum sequencing, that was excellent.
Suggestion: give the song more of a progressive feel. I don't mean in notation, although that's nice, but rather, in arrangement. Make it seem like one thing causes another, if you know what I mean.
- Salluz on February 24, 2011
Terrific arrangement -- short, but polished, and you packed in a lot of detail and variety. Definitely could hear this in a Metal Gear movie.
- docnano on February 19, 2011
I like it... but I feel this particular song could also be appropriately remixed in an "Epic Final Battle" type of way complete with Latin Chorus and such. It's what I was at first expecting when I saw who made this remix.
- Conrose on February 17, 2011
I am digging this a lot!
I will admit I pretty much despise the Commodore64/NES/Famicom soundtrack. But I do very much like this remix of them a lot!
- BONKERS on February 17, 2011
What did you think? Post your opinion of this ReMix.
- djpretzel on February 16, 2011