Download MP3
6,097,696 bytes, 4:11, 192kbps

Play Preview
Streaming preview on YouTube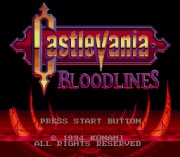 Dr. Manhattan sets his sights on the Castlevania franchise with this electrified rock/metal take on Bloodlines. Every single one of Hugo's mixes to date has rocked out, and each has been not only from a different game, but a different series/franchise, so while the shreddage remains consistently face-melting, I gotta give him props for the change of scenery, spreading love to the wider world of VGM.
The arrangement professionally fuses metal/rock elements, performed brilliantly, with orchestral/gothic accompanying components that blend perfectly. It sounds like a track off a professional arrange album, and then takes it up a notch from there with the introduction of wah-wah towards the end. I'm a sucker for wah, I admit it, but it's not like it's an autopilot effect - the part & playing both need to be written to take full advantage, and they certainly are in this case. I'm glad Hugo added it, because it provided that little extra edginess & surprise that gave the whole mix more attitude and character. Sometimes a track can sound TOO polished, if that makes any sense, and while no one should EVER take awesome, professional production & arrangement for granted, some aggression or deviation can really help drive the whole thing home. Like a stake. Through the heart. Of awesome...
Wonderful, rock-solid, completely enjoyable Castlevania Bloodlines mayhem from Dr. Manhattan... not much more I can add!

Discussion:
Latest 13 comments/reviews; view the
complete thread
or
post your own
.
The doc here just knows what it takes to melt your face off with quality rather than loudness, and with a source like Castlevania, he pretty much has to. This ReMix has the classic gothic idea to it in the arrangement, but the guitars drive home the absolute feeling of power. The breakdown and higher return was the extra mile of variety that makes this one of those ReMixes I wouldn't hesitate to recommend to someone. Amazing ReMix, doc.
- Crulex on October 11, 2012
RAWWWWWWWWWWWWWWWWWWWWWWWWWWWK!!!!!!!!
Seriously, this track rocks. I love it so much; fantastic job. Very enjoyable listen that remains faithful to the source in the conservative parts and rocks the fuck out in the liberal ones. :D
- Mirby on December 25, 2011
Good choice of source, Dr M. I'm glad to see that the SEGA-based Castlevania side is getting some love :)
So the arrangement typically follows the source closely, but with some nice expressive guitar work and some sweet organ/string/drum work being thrown in to compliment the setting as well as a sweet transition at 1:45 it manages to show its expansions. And I got to admit the calm at 2:40 before leading into that [i]insane[/i] wah solo was icing on the cake to me - showing a lot of Dr M's colors of a player. So we basically have an arrangement that generally has a straightforward approach but really starts diving into Dr M's character around it. Neat work.
I can't however leave this with a little criticism. I don't know if it's me though, but I can't help but notice some over-compression on the track somewhere. I think it's more noticeable on the rhythm guitars; often when they're making a presence they seem to push the mix down slightly uncomfortably.
But there is at least a plus to come out of it though - no MIDI trumpets this time :razz:
All in all, a very enjoyable track for me; be sure to keep rocking the Dwelling of Duels and sub to here every now and again; I've been quite a fan of yours over the past several years and I'm glad you're there to keep delivering :D
- Rexy on December 8, 2011
Sweet rockin' remix. Castlevania is always a good source, and it is nice to hear Bloodlines getting some love.
Breakdown around 2:40 is awesome; the guitar has a very Queen-ish sound to it.
- Martin Penwald on June 21, 2011
:nicework:
DrManhattan as best as always
- Belisarios on April 26, 2011
I've never played this game but I love this remix. I'm getting the same pins and needles on my neck as when I hear one of my favorite tracks from a nostalgic game. Except there's no nostalgia here, just raw awesome.
- Rambo on April 13, 2011
There's a lot of great musicianship here. Only thing i find odd is the amount of limiting kinda gives the track a sort of "pumping" feel. Gives me the same feeling as sticking q-tips in my ears. Not sure if that's normal. Im still getting the ins and outs of mixing myself. Other than that, really awesome stuff!
- GarretGraves on April 10, 2011
Ah, I love a good face melt. Very interesting piece to listen to. Nicely done, thumbs up!
- luhny on April 8, 2011
:smile: I think your OCRemix on this one is fantastic; I'm definitely downloading this. The only thing that felt off to me were the choir aaahs after 2:40 (listened to youtube preview). I felt that the initial volume just took away from the whole effect somewhat; the attack might have been a bit too heavy for them (imho). The way it is each one feels almost too sudden to me.:? Anyways, I still love this, and I appreciate the time and effort you put into this. Thank you. :nicework:
- GravitySuitCollector on April 8, 2011
Reminds me of the incredibly awesome music representing Guilty Gear
- 1day on April 7, 2011
This was great when I first heard it in DoD. Still love it. Bloodlines has such awesome much and you did it justice!
- Sindra on April 7, 2011
Good to hear some more Bloodlines. I think it is also Dr. Manhattan's best work yet (love the breakdown at 2:38). Well done.
- Txai on April 7, 2011
What did you think? Post your opinion of this ReMix.
- djpretzel on April 7, 2011