ReMix:

Mega Man 9 'Cement Extacy'

Download MP3
3,654,509 bytes, 2:29, 192kbps

Play Preview
Streaming preview on YouTube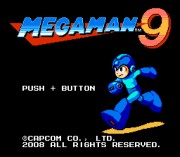 Unless you somehow managed to miss it, you know we released our Mega Man 9: Back in Blue album recently, and while it was kickin' AND well-received, there was just one issue: Somehow, we forgot Concrete Man. Sorry, bro. So what did DarkeSword do? He did what any enthusiastic, motivating, Mega-fan would - he coordinated a mini-EP filled with NOTHING but ReMixes of the theme. You can read the sordid but foundationally sound details AND grab Rockin' Sockin' Cinder Blockin' (A Concrete Man Remix EP) on the forum thread, but to help shine a little light on this correction of grave injustice, we've got two mixes to post. First up is Flexstyle:
"When I first heard the source, I knew right away what I'd be doing for this mix--a retro Eurotrance-inspired (hence the name "Cement Extacy," a bit of a ye olde rave culture reference), straightforward, somewhat cheesy, back-to-my-roots uplifting trance mix. Now, as with most of the games represented on OCR, I haven't actually played MM9. However, I really dug the tune--so much so that this mix only took me four hours to complete, start-to-finish, arrangement, mixing, mastering, everything. I think it's one of my favorite tracks I've ever done in this genre, so enjoy!"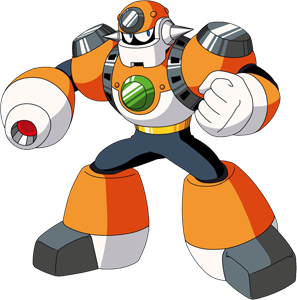 Concrete Man appreciates the shimmering, percolating synth patterns buzzing around & over a thick four-on-the-floor kick & alternating snare/claps. Concrete Man likes catchy mix title & rave culture reference, but Concrete Man himself would never use that junk, because Concrete Man cares about what goes into his body, and tries to keep Vegan as much as possible. Concrete Man is somewhat disappointed that no one did an arrangement of his theme and titled it "Musique Concrète," and did it in that style, because it would have been PERFECT. Concrete Man will now stop talking about himself in third person.
A dominating downbeat anchors the whole arrangement, which stays pretty true to 90's era genre trappings, but executes efficiently & effectively. For four hours - or much more - this is a polished slab of glossy, iridescent electronica that, while not aesthetically similar to the actual substance itself, has a foundation solid as concrete. Grats to Shariq for getting CM some love, and to Flexstyle for his third posted mix!

Discussion:
Latest 9 comments/reviews; view the
complete thread
or
post your own
.
At first, I could not really hear the 90s influence djp talks about in his write-up, but once the part around 1:15 kicked in, I was like "Am I listening to Westbam's Celebration Generation?!?" and all was well and 90s.
I do agree with the previous posters about the song being a tad too short, though.
- Martin Penwald on December 25, 2011
Yes! Now this is my type of dance/trance! For a ReMix that was done in four hours, I'm impressed as all hell that such a great tune could be made in such a short time. The beats hit hard and the both the source theme and the trance style are really well represented. I just wish it was a tad longer, but considering what you managed to fill in a two and a half minute ReMix, that's just the trance lover in me talking. Fantastic stuff.
- Crulex on December 9, 2011
Pretty good mix here, although woefully short! Flexstyle does a good job with turning this into a trance mix, it follows the formula pretty well, but could use taking it up another notch.
- Bahamut on December 6, 2011
I love it. I don't have much more to say than that. :smile:
- GravitySuitCollector on October 12, 2011
My ears appreciate.
- Locke on October 11, 2011
If any tracks were to be auto-posted as a result of the Concrete Man EP, I'm glad it was Flexstyle's. He's certainly been coming a long way since his PRC participation back when I was hosting it, and his contributions towards the site have shown his progression a great deal.
Course, given that it was merely made over a couple of days does indeed show the mix's more conservative nature, but he managed to make up for it with a hugely polished production package that has been really catered strongly on that field. It's a safe direction, but it's one that managed to come up strongly as one of the best tracks on the album sheerly due to all the attention paid towards all the attention paid towards the genre adaptation.
Be sure to keep contributing to the site Flexstyle; I am proud of your progression :)
- Rexy on October 9, 2011
I know I hear stairway to heaven here...
Its an awesome mix all the same.
- Dark Vagabond on October 3, 2011
Great way to start of the album. I was really excited to see Flexstyle participating in the album. Since he's one of my favorite electronic artist on this website (maybe evar) I knew I'd like this before I even heard it.
The song works for this genre. It's a little short, but it gets the job done, and again, starts off the album in an excellent way. Can't say anything bad about it really. I love it.
- urdailywater on October 3, 2011
What did you think? Post your opinion of this ReMix.
- djpretzel on October 3, 2011