Download MP3
7,142,087 bytes, 7:22, 128kbps

Play Preview
Streaming preview on YouTube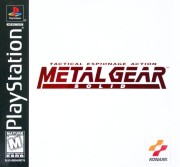 The price of freedom, as we know, is $1.05, but now it's ALSO an epic, cinematic MGS mix from Evan Arnett, who follows up his Zelda debut back in 2007 with a collab that involves two additional musicians:
"Inspired and humbled by the tremendous positive feedback I received from my Zelda overture, I decided to try my hand at an arrangement of another of my favoirte game scores: Metal Gear Solid. As I was writing this, I played through all four Metal Gear Solid games, and wanted to create a version of the theme that fully encompassed the entire series, much like what I tried to do with the Zelda Overture. I wanted to challenge myself to create a piece that sounds as if it could belong in the game, yet included a great deal of original thematic development: melodic, harmonic, percussive, and motivic.

I had the privilege of working with two very talented musicians: mezzo soprano Janna Mckinley, who sings the opening and whose voice I manipulated into various electronic textures throughout the piece, and guitarist Jonathan Mills, providing the wonderful acoustic improved intro and echo of the main theme.

I had more planned for this piece, but unfortunately my studio was burglarized and all the original files and arrangement were lost, leaving only this mp3 which I had uploaded to my personal site. Still, I'm proud of what I was able to accomplish, and sincerely thank you for your consideration."
Unfortunately this is now the sole recording/encoding of this amazing arrangement, and it's at 128Kbps, proving the age-old adage that the only good burglars... are Hamburglars. Right from the intro, with Janna's gorgeous singing, it's clear that Evan isn't pulling any punches - as with his Zelda mix, this is a fully-realized, very substantial arrangement that encompasses not just one game but the whole series universe. It's chock full o' ideas, and the addition of vocals & guitar lend the intro a distinct vibe that flows nicely into more electronic textures, becoming increasingly cinematic w/ BIG DRUMS, and then... check out the piano & guitar call-and-answer, with soft string pad accompaniment, at 5'07". Very sweet, emotional moment of Zen; an oasis of calm in the midst of all the action-espionage turmoil. Use of solo brass is brave; it's never gonna sound 110% immaculate, particularly when exposed, but sequencing can help, and I especially liked the glissando down @ 5'50". OA writes:
"...in some cases I could have been tricked into thinking I was listening to the OST, especially for the encounter theme. I loved the arrangement buildup of the Snake eater theme, but thought it could have gotten even bigger, and had more time to shine, though that is just my bias, as I think it's one of the best game themes to come around in a very long time. The transitions were good, and the varying sections contained a good blend of fresh ideas but always with very recognizable themes, and the song finished very nicely. Overall this was really solid (see what I did there?)"
It's a great, BIG mix that incorporates some of the games' best themes into something that develops, tells a story, and has a huge impact. Here's hoping karma comes back to bite whoever hit up Evan's studio, and that it doesn't deter him at all from making more epic ReMixes like this!

Discussion:
Latest 14 comments/reviews; view the
complete thread
or
post your own
.
Those vocals at the start.......8O. Wow. The beginning up until 1:50 was so tense, and the build-up was cool. Then it gets downright actiony and heroic from there. This is something that I could easily see being on the OST of a movie. The breaks in between the more filled-out areas give this much more life, and 3:45 to 4:15 makes for a great hero's overture or whatever the term would be. Liked the piano section, and ending it on the military sounding march was a great finish. Not bad at all.
- Crulex on December 11, 2012
I love how this remix transitions from one theme to another. The Metal Gear Solid games have some of the best music ever, and whipping up a remix like this where some of the most iconic themes blend together in harmony is no small feat.
Well done.
- Martin Penwald on July 14, 2012
Whoa, had to come out of forum limbo to comment on this. This is without a doubt the best Metal Gear Solid remix I've heard to date, and what makes it so ironically tragic is that 128kb/s is the best rendition we'll ever get.
A remix that tackles the whole intro is something I've been interested in hearing and toyed with numerous times over the years, and while this one doesn't quite do that the fact that it kicks off with the same music the game introduces itself with is an excellent nod. To then go through some of the series' finest music just makes it better and better, and while I can hear where some areas could have used some extra polish if the opportunity were there, it's nonetheless an incredible accomplishment.
Well done! Now get some more made. ;)
- Thrik on January 21, 2012
This is GREAT!!
This made my day , really!
- BONKERS on January 19, 2012
KnightOfTheRound;835826 wrote: Hell yea, I really enjoyed this mix! There needs to be more Metal Gear on OCR!
I second that but i point you back to my statement: ..Too few people have the balls to take on a project of this magnitude. This... *bleeps self* I have heaped praise on Reuben for his interpretations. It is a standard i hold all MG remixes to, they are that damned good.
Metal Gear has a required level that just being OCR level wont cut it. The few MG remixes on this site have set new standards for OCR in general. I wouldn't mind more Metal Gear mixes but the few we have are so damned good i don't care that its a small number.
- Hyperion5182 on January 15, 2012
Brilliant, the section after the encounter was the highlight to me. Around 3.15 on
Gave me nostalgia goggles.
- Aster on January 15, 2012
Hell yea, I really enjoyed this mix! There needs to be more Metal Gear on OCR!
- KnightOfTheRound on January 15, 2012
Ahh I love orchestral mixes with BIG DRUMS such as this. With longer mixes it's hard to keep a listener's attention, but this mix has no problem with that at all. Very nice sounding instruments, the arrangement is nice and as stated the percussion is pretty freakin' cool. Nice mix!
- uhhh6677 on January 14, 2012
....Too few people have the balls to take on a project of this magnitude. This... *bleeps self* I have heaped praise on Reuben for his interpretations. It is a standard i hold all MG remixes to, they are that damned good. To Come within sight of the bar is an achievement. To be able to grab hold of that bar is high praise indeed. I hope with your next remix you're able to rip that bar off its perch and start beating people with it.
Well done sir. This one's getting put in my top 50 playlist.
- Hyperion5182 on January 13, 2012
Thanks guys. This project was a blast and I learned so much from it.
The only things that would have been different if the piece had been finished is that the ending would have been louder (actually, I was out of headroom so it might be more accurate to say that the first 3/4 would have been softer) and I would have replaced the sampled solo trumpet with a real trumpet and real horn.
If any composers are interested, here what I used, as well as I can remember. (It's been almost 2 years since I wrote this)
String/brass- Symphobia, VSL Epic Horns, possibly Project Sam trombones
Piano- Native Instruments Steinway Grand
Trumpet- Samplemodeling "The Trumpet"
Percussion- Tonehammer Epic Toms, Heavyocity Evolve, maybe Stormdrum 1
Lexicon Reverb
The clicky percussion was done in FLStudio with various samples I tweaked a lot, but the main thing was sequenced and mixed in Cubase 5. Ozone 4 for the mastering.
- Evan Arnett on January 13, 2012
I was breathless until 1:50 then my nipples went rigid and chills went up and down my spine, you sir, are amazing!
- Adventdawn on January 13, 2012
i'm loving this remix, especially how it goes from the best is yet to come to suddenly encounter. that part as softsteel mentioned made me feel like i was back in shadow moses and had just been spotted. the way it turned into MGS2-3 theme was a great way to end it.
The ending did lack power that i was expecting but it made up double for the emotional power in there, which for this game series? had plenty of emotion in there already.
Great job guys. keep up the good work
- psychowolf on January 12, 2012
i like it, it make me feel like i am in the game all over again. But it make me want to listen Reuben Kee's Legend of the Snake. RIP bro
- Softsteel on January 12, 2012
What did you think? Post your opinion of this ReMix.
- djpretzel on January 12, 2012