ReMix:

Shenmue 'Amorelle'

Download MP3
5,232,469 bytes, 3:35, 192kbps

Play Preview
Streaming preview on YouTube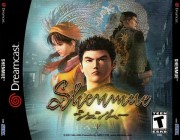 Radiowar + Shenmue? This should be good... Alex writes:
"this is a remix of Cherry Blossom Wind Dance from Shenmue. i've never played shenmue but i came across the soundtrack a while back and was struck by the cinematic over-the-top-japaneseness of it. thought this track in particular would make a good basis for a nujabes/bonobo type track soooo i did. hope you like it

special thanks to emunator for his feedback & encouragement during this arduous process :]"
Mellow, downtempo beats + lush ethnic instrumentation + silky Rhodes + an amazingly atmosphere + a superb upright acoustic bass all adds up to... well, I'm not good at the maths, but suffice it to say, it's awesome. This track oozes with ambience, style, and beauty; I dig everything Alex has done to date, but I also think his sound was a natural fit for Shenmue, so I'm glad he went there. Shariq's been drinking the happy sauce, and concurs:
"Yeeaaaah this is chill bro. I love it. It's got a really sweet, laid back vibe to it. Rhodes and piano really do it for me. Nice flute in the second half. SUPER COOL!"
OA corroborates:
"This is a really nice mix; good expansion while remaining completely true to the source, and a great soundscape and excellent variety. Really strong stuff, I loved this one."
Bottom line is, as our first Shenmue mix in almost EIGHT YEARS, I almost feel like I'm downright obliged to appreciate it on some level, but Alex has made that a non-issue by producing a shimmering, ethereal, and quintessentially chill arrangement that anyone can & should love.

Discussion:
Latest 14 comments/reviews; view the
complete thread
or
post your own
.
Damn, this is smooth as all hell! I can really chill out to the beat of this one. The rhodes, and the flute are absolutely beautiful sounding. The source may be called "Cherry Blossom Wind Dance", but that's exactly what I picture when I listen to this with my eyes closed. Damn good stuff, Radiowar.
- Crulex on May 16, 2013
ive had this on loop since it was posted and i must say you've done a great job! im secretly a fan of your work been listening to you ever since you popped on OCR. your music really speaks to me, thats what i love about your music the most. keep up the good work cant wait to see what you have up your sleeves.
- Jewbei on April 9, 2012
Smoooooooooooooth. This might be one of the greatest things ever.
-D
- DCT on April 7, 2012
I'm lovin' these groovy mixes showing up on OC lately, this included. Excellent job, Radiowar!
- EtherEel on April 4, 2012
radiowar is great
- delbuster on April 3, 2012
Superlative. Not got much to say about it that hasn't already been said but every single instrument and sound in this mix adds its own bit of emotion to the overall piece, you can feel that sense of sorrow and melancholy coming through even in smaller instrumental parts like the bassline.
Beautiful work dude, glad I could help it along to completion :-)
- Emunator on April 1, 2012
Here is the perfect example of why I appreciate OCR. I probably wouldn't have thought about Shenmue in 20 more years if I didn't look up here to see this remix.
It is sad in some ways how games of the past that held our imagination would be forgotten.
But for now, at least, I can remember why I loved this game so much while I replay this remix over and over again.
Thanks Radiowar.
- InDL on April 1, 2012
This is just gorgeous. The arrangement is so relaxing yet envigorating. Very chilled and captivating. I'll be listening to this for a long long time :)
- Magellanic on March 31, 2012
right up my alley. big ups man.
- melody on March 31, 2012
Absolutely stunning! My favorite style of music :D Really awesome mix!
- DjMystix on March 31, 2012
[i]Man.[/i] My heart always skips a beat whenever I see that a new Radiowar track is out. :) This time was no exception! Wonderful stuff, Alex. I'm not familiar with Shenmue or its soundtrack, but this is really pleasant as its own stand-alone thing. As mentioned by someone else, you [i]really[/i] nailed the nujabes feel, and that's always welcome.
Immediately added to my playlist. Looking forward to more! :)
- Ando on March 31, 2012
you nailed that nujabes/nitsua/fatjon/etc. sound perfectly man.
i saw "nujabes" in the write up and i automatically knew that it was going to be good.
has a somber yet calming and satisfactory feel to it, kind of reminds me of that feeling of realization after a funeral or something else along the lines of heartbreak and acceptance.
then again, you've always made some highly ambient and emotional music in general.
peace
- Damashii!! on March 31, 2012
This is such a mellow mix. Very enjoyable, very relaxing. Great work from Radiowar~
- Mirby on March 30, 2012
What did you think? Post your opinion of this ReMix.
- djpretzel on March 30, 2012