Download MP3
5,751,804 bytes, 2:58, 255kbps

Play Preview
Streaming preview on YouTube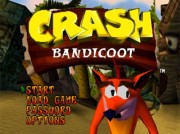 Crash Bandicoot!! Finally! It's taken 12+ years, but Crash finally has some representation, thanks to Rexy, who is responsible for not one but TWO ReMixes of the first game's music! First up is another collab between her & Brandon Strader, with an oddly (coincidentally?) similar porcine title. This is some rip-roarin', top-tappin' hoedown roots rock, almost reminiscent of a certain Bubble Bobble mix of yore, only sans vocals and with much better instrumentation & production. Rexy says:
"Working with Brandon on 'Hogtied' for OCRemix's recent Sonic 1 project was a lot of fun, so a second encounter could be proven inevitable, hence the construction being really similar. So here we go, tackling the 'Hog Wild' stage theme in Crash 1 (and like my other Crash submission there's some light homages to the main theme and Cortex's theme hidden in there as well). Its roots were as a Celtic Punk arrangement, written in the style of Flogging Molly (hence the title), though when Brandon chipped in later with his contributions it soon got a more southern flair attached to it. I won't be surprised if the user would actually smell the raw bacon halfway through!"
I for one believe bacon to be more aromatic when cooked, but either way, good job; I picked up on more of the Southern flair than the Celtic vibe, but the energy was infectious either way. Brandon adds:
"Speaking of raw bacon, Rexy sure knows how to write parts that are a bit challenging. That lead part with all the chromatic notes was tricky to lay down because of my stupid fingers that want to land at logical places. I practiced it until I could record it without fault and the challenge was very refreshing for me. Will I do something like that again? Nope. Well, only if Rexy writes it on a future collab.. ;P Recording these songs is part of my huge evil plan to get closer to Rexy. :D"
OKAY THEN... Yeah, the chromatic stuff here is certainly fun, and adds some tension to an otherwise raucuous, carefree jaunt. Vigilante writes:
"You certainly did a rocking job with it. Very well-adapted to the instrumentation. You manage to convey a lot of energy considering so many of the instruments aren't live. I'd say my biggest gripe is that the electric guitar is a bit forward in the mix, but really this is short, sweet, to the point, and doesn't give you time to get bored."
halc adds:
"yeah, no additional crits here, this is just plain old fun stuff. nothing mindblowing, but plenty solid overall. keep up these collabs, you two; they've yielded some interesting results."
Agreed - in addition to covering source material that's gone untouched for ages, the genre/style here is unique, fun, and well-executed, which is more difficult when working in a folksier, rootsier style. Props to Bev & Brandon for another great collab and to Rexy in particular for making CB a home on OCR!

Discussion:
Latest 11 comments/reviews; view the
complete thread
or
post your own
.
This is a damn kick-ass track. With all the fun of the musical style, this actually has kind of a dark ting to it. Really good instrumentation. The guitar is very juicy, I love the use of the slide here. There's one spot in the guitar track that doesn't sound quite as confidently played as it should - 0:55-1:02 - but that's a really minor nitpick in a great guitar track with just the right sound for the piece - I guess I somewhat disagree with Taucer there. The slide does sound really great though. The violin sounds pretty good too.
--Eino
- evktalo on July 17, 2012
Ever since
Little Sisters of Illusion
I've basically just auto-downloaded everything by Rexy. I am pleased, [i]most[/i] pleased, that this has the proper cheese I've come to expect.
Production has room for improvement
Are you mad??? You would ruin what makes this great by improving its production??? I am disappoint.
- Nobbynob Littlun on May 26, 2012
Finally some Bandicoot! Love it! Now we need some Spyro!
- Hum4n After All on May 13, 2012
Whoa, thinking that I wouldn't hear any more of Flogging Molly after discovering Devil's Dance Floor, I was genuinely surprised that such an energetic style was brought to an adaptation of Crash Bandicoot's awesome music. Nice work!
I'll certainly have another track to listen to repeatedly. :mrgreen:
- J*Rod on May 6, 2012
Haha, oh my word. This is great. Compliments the raging boar memories running rabid through my mind right now. :]
- Zidane on April 11, 2012
When I think of Crash Bandicoot, this is exactly the kind of thing that pops into my mind. It's Crazy, goofy, colorful...
This was just fun for me to listen to and I think it's a nice contrast to Rexy's other Crash ReMix.
- Sansato on April 8, 2012
Loved it when it was uploaded to DoD, love it still.
- Shake on April 7, 2012
Production has room for improvement - the lead guitar tone in particular really doesn't mesh with the rest of the mix at the beginning, though it sounds MUCH better when the slide starts in.
Otherwise, I love it! OCR definitely needs more bagpipe and banjo love.
- Geoffrey Taucer on April 6, 2012
I loved it, awesome mix for crash bandicoot, I loved the game, loved this even more, I still own all the original playstation copy's of the games.
- Jabadoterry on April 5, 2012
this always has been one of my favorite tracks, and not just because it's a crash one. very infectious rhythm and very enjoyable to listen to. nice work!
- Mirby on April 5, 2012
What did you think? Post your opinion of this ReMix.
- djpretzel on April 5, 2012