Download MP3
14,216,908 bytes, 7:46, 243kbps

Play Preview
Streaming preview on YouTube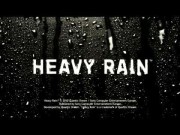 Heavy Rain was a really interesting game to see hyped up and finally released; there was much speculation that the level of interactivity would be minimal and that it would be a "playable movie," in the worst sense of the phrase, but when it actually came out, I think a lot of gamers agreed that not only had the developer tried something completely new, but that it had worked. While the acting, direction, and visuals are all obviously a huge part of that, the soundtrack was quickly acknowledged as being excellent; not only had it captured a cinematic feel, I think it one-upped a lot of modern film soundtracks by ALSO having some distinct, memorable melodies, which seem to have gone out of vogue for some crazy reason I'm still trying to understand... Here with our first arrangement from said score is the prolific Mr. Strader, who's given Ethan Mars a metal makeover:
"I bought a 7-string guitar so I could make doom metal. Then years passed and I had never made doom metal. I saw an opportunity to make doom metal with the One vs. Many month of Dwelling of Duels, and made 'From Mars', a doom metal remix that uses Ethan Mars' main theme and Norman Jayden's action theme, The Bulldozer.

I've listened to doom metal for years. My main influence is My Dying Bride which should be obvious if you're familiar with them. (If not I recommend "Songs of Darkness, Words of Light" or "For Lies I Sire") This remix is a lot more melodic than your standard doom metal, though the configuration of heavy guitars and present bass + violin is pretty standard fare. There's a lot more strings in this however, and no vocals. I don't like to add vocals to a remix unless they are called for, necessary, or there's lyrics in the source. I am happy to have made a remix that stays at least mostly true to the doom metal genre, albeit without vocals. The Bulldozer bit begins at 4:09 and ends at 5:18. The whammy bar bend at 6:23 is dedicated to Larry."
Much as I often find the proliferation of esoteric electronica sub-genres a little goofy, I'm still iffy on all the metal sub-genres & whether the characteristics really necessitate labels per se, but that's probably because I'm a cranky old person who's out of touch, etc. Either way, this is some good stuff - very deliberate, almost processional pacing, as the combination of strings and chugging power chords darkly spells out the simple & haunting main theme. The second theme is integrated at the same tempo, sounds cohesive, and allows for a 7+ minute length that doesn't feel unnecessary; incorporation of game dialogue would be melodramatic for almost any other genre, but in this case it jives with the severity & the expression of pain in Brandon's arrangement. Powerful stuff from Mr. Strader that matches the emotional anguish of the game's narrative.

Discussion:
Latest 11 comments/reviews; view the
complete thread
or
post your own
.
Man this is some heavy stuff. Good for catharsis though.
- WesternZypher on April 29, 2013
This is some really great work Brandon. Very passionate too. Even though I don't own a PS3 nor have I played Heavy Rain, I've heard of it and watched some gameplay of it and I can say that you captured the brutality of the storyline, not to mention that its just a really great mix. I love it, and congrats that you were the first one to do a Heavy Rain remix, I'm glad you were. This is a favorite for me, hands down.
- Mikeaudio on January 15, 2013
It's interesting that Brandon comments that doom metal provides a heavy influence in this track, which I can see, since the strings play such a heavy role in this song. I kinda think the strings sit in a bit of a strange place in the song for me, perhaps mixed a tad too far forward.
The song remains interesting throughout for me though, I can play this and it won't bother me while in the background, which doom metal does a good job of in general, although doom metal tends to lay on the guitars heavier to help give that overbearing sad feel to the music. This song sounds like it has more apprehension attached to it with the way the strings are arranged & placed. The song works as a complete package and is a worthwhile listen IMO.
- Bahamut on July 15, 2012
Sorry, but I didn't really dig this at all. I love metal and I love the HR soundtrack, and I think they could work together, but that violin at the beginning and throughout was just SO mechanical. It completely lacked a human sound - not at all befitting of Ethan's theme or character. I had a hard time getting past that to enjoy the rest of the remix, which seemed solid all through otherwise.
- dj_ultima on May 15, 2012
JASOOOOOOOOOOOOON :tomatoface:
Seriously though, I forgot how emotional this game was. Brandon did an excellent job at capturing that emotion, and his production is excellent as well.
Oh man that Ethan Mars vocal sample sends shivers down my spine every time.
Excellent work Mr. Strader.
- therex on May 13, 2012
Reminds me of Type-O Negative's "Haunted" instrumental from the Descent II redbook. Never thought I'd hear another slow metal song like that again. I need to explore the music world a bit more. Doom metal!! Hee. I like it! Now I want more.
- Binweasel on May 11, 2012
Mirby;860174 wrote: pretty nice track. i'm curious where this ranks in overall length compared to the other tracks on the site.
sergio;860196 wrote: [URL="http://ocremix.org/remixes/?&offset=0&sort=lengthdesc"]#12[/URL].
Oh REALLY?! I thought for a long time nothing would EVER top "Blue Lightning", but damn... these past 3 years have really done a number for long mixes, I can see now. Nice find!
Anyway, time to not get too far off the beaten track. I've remembered this track since Brandon's early WIPs of it for that DoD. I felt his passion, felt it probably wouldn't do quite as well due to it being significantly slower (and indeed it was mirrored in the results), but at the same time Brandon's passion for the sub-genre showed and he did everything he could to make it work.
Arrangement-wise, I believe he nailed both sources together well. The coverage for Ethan Mars's theme felt more like a straightforward genre adaptation, but the additions done to the backing instrumentation has done a lot to shake up the source without going too far off track and still maintaining the subdued tones of the source material. And I'm glad he went on to tackle "The Bulldozer" as well, because of the game footage I saw for it it was one of those sources that built up a lot of urgency for me (not to mention the sheer awesomeness of Norman Jayden as a character), and even though some of the drama behind the source material was considerably tamed and refined in structure to fit Brandon's vision, it still takes the literal meaning of "kick a person who's down" really sharply. (And talking of which, Ethan's screams just prior to then... I can't listen to now without curling my left hand into a ball and using the other hand to shield it >_> )
Production-wise, I have understood that Brandon had come leaps and bounds since in regards to his capabilities. Though for its time, the string work had a great expression and variety to it (though I'm not quite too crazy over the ensembles but it's workable), great attention was done to the guitar/bass tones this time complete with some great expression with the clean-sounding lead, the instruments were mixed very distinctly as well, and things have been levelled out well enough. It amazes me to see how much of a long way Brandon had come as a producer :)
In spite of its lukewarm DoD reception, I dug it and kept a hold of it for some time. It got me intrigued enough to see everything I could about it on Youtube (yes, I don't have a PS3), and I even covered this very same mix myself as a
bonus entry for the Dwelling of Duels 'Recover Month'
. It's good to see that Brandon managed to take great note to artistic expression and his own personal pleasures, and I'm happy to see all that, much as I would've wished for him to be a little more cheerful :razz:
All in all, nice going! Keep up the growth Brandon - I can see you getting bigger and better with the ridiculous growth I saw of you :)
- Rexy on May 11, 2012
Heard this on Dwelling of Duels. Glad it got on OCR. Love it!
- Kuolema on May 11, 2012
Mirby;860174 wrote: pretty nice track. i'm curious where this ranks in overall length compared to the other tracks on the site.
[URL="http://ocremix.org/remixes/?&offset=0&sort=lengthdesc"]#12[/URL].
- sergio on May 11, 2012
pretty nice track. i'm curious where this ranks in overall length compared to the other tracks on the site.
- Mirby on May 11, 2012
What did you think? Post your opinion of this ReMix.
- djpretzel on May 10, 2012