ReMix:

Mega Man 2 'Blowin'em Outta the Water'

Download MP3
5,184,444 bytes, 3:33, 192kbps

Play Preview
Streaming preview on YouTube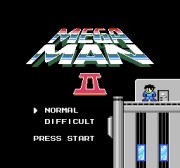 Based on the mix title, I was expecting something hyper-aggressive, with wubs-a-plenty and all those edgier dubstep FX the kids go crazy for, but this is actually really happy, chippy AND chipper electronica from TheGuitahHeroe, a bit simpler than his other tracks & even more upbeat. The artist writes:
"This was my entry for the first round of the Grand Robot Master Remix Battle headed by Darkesword. I remember having a lot of fun with this one, despite it being the first time I had ever remixed a theme that I did not want to remix :D The round itself was a very close match between Gario and me; our mixes were pretty much perfectly evenly matched, but the votes were slightly in my favor. I really hope you guys get a sub letter from him soon with his mix as well. That's pretty much all I have to say really, it's a bit happy compared to my other stuff, but I hope you guys dig nonetheless :D"
The tone is downright elated, so if someone's being blown out of the water, I'm thinking it's completely consensual. Maybe they didn't WANT to be in the water in the first place, and Jamison's just doing them a favor, eh? It's all about perspective; here's Jesse's:
"Let me tell you, if the beat never changed, I wouldn't have listened twice to this submission, but you really do a good job of mixing it up and keeping my head from untssing right off my neck. Ultimately, the melodic interplay and reharmonization are very well-executed, and while there are moments when I feel very conscious of the fact that I'm listening to a medley, on the whole the writing is quite clever and enjoyable."
halc adds:
"this one doesn't quite feel as distinctive and personal as some of your other mixes, however it's still plenty solid, the two sources are integrated very nicely, and the production, though not as pristine as some of your prior subs mio, is above the bar. what's not to like?"
I'll ditto that this isn't quite as polished & punchy as previously posted mixes, but it's also a bit of a diversion in style, with a chippier, stripped-down aesthetic, so it also feels like it's expanding the artist's repertoire a bit. More good stuff from TGH, who at the moment is almost out-WillRocking WillRock in terms of prolific & excellent electronica ;)

Discussion:
Latest 5 comments/reviews; view the
complete thread
or
post your own
.
This has TheGuitahHeroe's trademark happy synths written all over it!
It's a fun song, a bit on the thin side but having been made primarily for a competition with quick turnaround times, I can understand that. A nice part about this song is that it's built for looping quite nicely, so you can keep the happy bubbly feeling going indefinitely.
Good work here!
- Bahamut on July 4, 2012
This one sticks in my mind the most from the first round of the GRMRB 2011, and it's primarily because I was completely "blown out of the water" by this newcomer whom I had previously heard nothing about.
It's still on my primary playlists today. Great work, and I hope that you'll be entering the next Mega Man compo!!
- orlouge82 on June 16, 2012
I really enjoyed this song from the GRMRB 2011. It was by far the hardest matchup to decide between in the entire compo in my opinion. Both TGH and Gario had stellar tracks. It's great to see this one up here, nice work!
- SuperiorX on June 15, 2012
D'aww, no sub from me. I dunno, I just wasn't feeling like I wanted to submit that one. Eh, people can always go on my Newgrounds account and find it there, if they want to compare. :wink:
Actually, I don't submit too many tracks - I suspect if I did I'd have quite a few that would be waiting to be posted (rather than one, probably another on the way when the panel gets it).
Oh well, this was a fun match-up, when it happened. We actually had a similar style going with our chippiness, though yours was certainly bouncier. The arrangement was alright for your track (personal preference to my own, though; I guess you can't blame me, lol), and the production was really great. I'm glad to see this one up here - it was a very fun track.
:-D
- Gario on June 15, 2012
What did you think? Post your opinion of this ReMix.
- djpretzel on June 15, 2012