ReMix:

Nier 'Ancient Dreams'

Download MP3
9,000,266 bytes, 6:12, 192kbps

Play Preview
Streaming preview on YouTube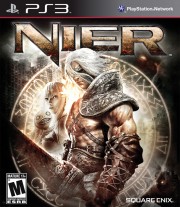 Our first mix of Nier (with some Z64 'Gerudo' thrown in) is a gorgeous hip-hop/chillout vocal arrangement with Latin components from Dj Mystix, w/ beautiful singing from Sabrina Valenzuela. The "invented language" lyrics & striking beauty remind me of Kate's amazing Xenogears ReMix, but the rest is pure Mystix, as he again works his "compositional mashup" style by using an Ocarina of Time classic as an instrumental break. Mansoor writes:
"This is my first ever track featuring vocals. "Song of the Ancients" cannot be remixed without those beautiful vocals. Sabrina has provided her amazing voice for this track. Since it is Sabi's first submission to OCR, I didn't want to take any risks and chose a style I'm most comfortable with (Chillout). The track has been converted to 4/4 and "Gerudo Valley" blends in between vocal breaks. The intro and ending is original writing because the source didn't have any of those (and I hate fade-out endings). As for the structure of the song, I have tried to experiment a bit (it was necessary because I wanted to fit in most of Gerudo Valley in it). We hope you enjoy the song :D"
Sabrina adds:
"It was a great experience working with Dj Mystix on this track. I love the dreamy and atmospheric vibe he created with this arrangement. Recording the vocals for this track, was an enjoyable and welcome challenge due to the invented language and alternative pronunciation. We both very much hope that you all enjoy listening and thank you for your time."
So I'm already a big fan of Mystix' approach to ReMixes, AND his song choice... and this mix has only increased my appreciation. Sabrina's smooth vocals are a perfect fit for the arrangement, which blends chill/hip-hop components with both Latin and Middle Eastern flavors for a truly enjoyable, 6+ minute, utterly transporting experience. 'Gerudo' fits right in - I could imagine Zelda or SE/Nier fans on either side fretting about the franchise cross-polination, but from a musical perspective it makes complete sense. That's what Mansoor seems to have a real gift for - figuring out which melodic/harmonic components to use, where, and how the puzzle pieces can all fit together to form something at once both familiar and new. I'm very specifically also reminded of another arranger-vocalist collab, N-Joy & Simona's epic Stormlord ReMix, which is a personal favorite. OA offers:
"Arrangement was understated, but generally effective, with some nice percussion and subtle bass fills, and the vocals were excellent. I think the bonus here is the the backing track does just enough to be interesting but stays out of the way of the vocals, and focuses on strengthening them."
Agreed. Excellent, creative, and fresh mix from Dj Mystix, which pairs his already-apparent talent for chill/downbeat tracks that intertwine multiple game themes with Sabrina's emotive vocals; highly recommended.

Discussion:
Latest 13 comments/reviews; view the
complete thread
or
post your own
.
Can't help but get a proud papa bear kind of feel listening to this. :'-) I'm certainly not djpretzel, but having been an OCR fan for 10 years and a judge for 8, hearing the skill and grace of the collaboration between Mansoor and Sabrina just fills me with a sense of pride for both them and how far this community has come. It's amazing to hear the diversity and talent of artists like these on a regular basis. Beautiful work.
- Liontamer on November 1, 2012
Such an awesome melody paired with beautiful vocals. I am in love! I would LOVE to see what they could do with Song of Storms. PLEASE do an SoS remix! lol -on my knees, begging!- :-P
- Sarad_Thamia on October 21, 2012
Oh, holy crap... what a song. I've listened to this one for months since it was still a WIP, and I never get tired of it. Chills, I tell you! This mix is all kinds of incredible!
- tdpole on August 27, 2012
Strikingly beautiful. I'm not familiar with the Nier source material, but I don't need that context to enjoy this. It's also excellent to see Sabrina on OCR!
However, I keep laughing every time Gerudo Valley shows up. It works very well; it's just kind of unexpected. :lol:
- KyleJCrb on August 13, 2012
I really like this!
I'm not familiar with the original. But the atmosphere is great, and the Gerudo Valley theme fits in perfectly! Nice dynamics on the vocals as well. Drums were really well done, and added a lot of rhythm without overpowering the rest.
Well done!
- Structures of Sound on August 12, 2012
Love it dude, I feel like my judge comments mostly summed up my feelings on this, but honestly the borderline part of the vote really only applies when viewing this strictly through the lens of OCR's standards. Outside of that context, as a personal listener I find this downright fantastic and there's nothing borderline about it.
This is definitely the track where I realized how much potential you had in terms of producing downright fantastic vocal tracks, and your recent attempts have gotten even better. Be on the lookout for more from Mansoor, he's done some amazing stuff recently!
- Emunator on August 9, 2012
I remember seeing this in the workshop forum. Loved it then, love it now. Amazing lyrics, incredible atmosphere, and excellent arrangement.
- Cash and Change on August 9, 2012
Great mix (as to be expected). Sabrina's vocals are really great and the arrangement is so well done. I'm eternally jealous of your ability to weave sources together into a single, cohesive and enjoyable piece of music. Fab stuff bud.
- Magellanic on August 9, 2012
I really like this remix. NieR is one of my all time favorite OSTs and it's just brilliant, and I am glad to see it get remixed. My only complaint is mixing it with Gerudo. Why mix something that's never been done with something that is practically the town bicycle of remixing? Especially when you could have used Ashes of Dreams which has a similar enough progression (arguably better).
But enough ranting, have at you.
I would have liked to hear a bit stronger vibrato throughout the song. I could go into a number of personal nitpicks like that but ultimately it's personal taste and the song is really fantastic. Thank you for making this.
djp wrote: I could imagine Zelda or SE/Nier fans on either side fretting about the franchise cross-polination
Oops, hahah.... <3
- Brandon Strader on August 9, 2012
I guess this is the stuff I miss when I don't judge as much as I used to. I'm not familiar with the main source, but this is a gorgeous arrangement and very well performed. Very reminiscent of the Stormlord ReMix that djp mentioned in terms of instrumentation, mood, and exotic appeal (if I can't understand it, it's all foreign to me - invented language or not). You keep getting better, Mansoor.
- Palpable on August 9, 2012
What did you think? Post your opinion of this ReMix.
- djpretzel on August 9, 2012