Download MP3
8,378,617 bytes, 5:46, 192kbps

Play Preview
Streaming preview on YouTube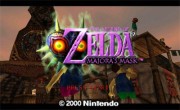 From newcomer David Enterlein, aka anterroir (which my brain keeps wanting is misread as 'anterior'), comes a darker, downtempo arrangement of the 'Astral Observatory' theme from Majora's Mask that brightens up towards the end. Deliberate, isolated piano introduces a stormy landscape that's filled with both uncertainty & warmth - brief, comforting moments quickly turn to darker, ominous overtones. It's a cool balance to strike, and the 2+ minute extended intro employs it well, before beats come and the tracks gets a bit more structure. Gated synths certainly get a lot of field play, a deep synth bass punctuates the rhythms, and shimmering bells express the melodic motif as choral pads accompany. The 4'59" dropout of the gated synth line was a little abrupt, and I think that particular component was ultimately overused, but overall I'm digging the mixed instrumentation and the 'slow burn' of the intro, as OA puts it:
"Cool idea to modulate the track while keeping the melody the same. The soundscape is barren but spacious, and the production is balanced, with some nice percussive textures. The song progression is very slow burning, which is not something that i'm really used to, but the track progresses and builds nonetheless."
halc adds:
"great arrangement here. didn't know what to think at first, but when that piano melody came in, it all clicked. theres some really great reharmonizations going on here. the mix pushes the boundaries as far as being too liberal, but quite enjoyed this overall. hope to hear some more subs from you in the future!"
Emunator also had some good pointers. Definitely a liberal arrangement, but you can hear the connectivity relatively easily, and the artist did a great job painting a dark, troubled picture with both texture AND tonality. Strong debut from anterroir with depth & development.

Discussion:
Latest 10 comments/reviews; view the
complete thread
or
post your own
.
Thanks everyone for the nice comments :oops:
- anterroir on October 29, 2012
Wow. This is one solid mix. Easily sounds like something from a movie...Perhaps the ending of a suspense film?
- genius11433 on October 9, 2012
I absolutely love it! I've already listened to it well over a dozen times at work over the last two days. This one's right up my alley, particularly once it really hits it's grove at 2:08, this ones going on the Ipod! Thanks for sharing this with everyone!
- Derceto on August 22, 2012
Surprisingly long intro there, but it didn't wander off for no reason. It seemed to have a logical structure to me. Loved the bit crushed percussion made to build it up at 1:18 - 1:26.
Perhaps some more filler notes could have been used to flesh out the piano in the intro some more, though, considering the pattern in the chord technique was somewhat simple, but it's not overbearing.
The snare afterwards could have a tad more low end punch, but it's sufficient nonetheless.
The gated poly saw was interesting, but it went on for quite a long time. Maybe it could have faded out at about 4:15, but that's alright.
At 4:35, perhaps you could have added some new elements to the mix (considering it feels like the climax), as you kept a lot of them from earlier, but the mix still works well there.
Overall, great work!
- timaeus222 on August 22, 2012
What a fantastic mix from a fantastic source of one of the best games ever.
It did take a while to start cooking, but just like a good roast, it's well worth the wait, and you know as it cooks from those delectable smells that you are in for a fantastic meal.
.... god I'm hungry.
- Master_Yoshi on August 22, 2012
Nice song choice! This remix is slow to get interesting but it does a good job of being a creepy version of an originally upbeat song. I especially like the part beginning at 2:55 where it sounds like a distorted radio (for lack of a better term). The song is fairly forgettable since it doesn't do anything flashy but it works for what it is. Thanks for creating this remix, anterroir! Hopefully there will be more in the future :grin:
- lemnlime on August 21, 2012
I LOVE this song. can't get enough of it. MOAR PLZ
- counterpoke on August 21, 2012
Love the dark ambience here - the production on this piece is super cool.
Piano is great, and so are the strings. The pads used in this piece feel very good, very mellow but spacious sounding.
This piece is very cinematic sounding which I like it. Good job on creating that sort of dark atmosphere!
Yup. One of the best Zelda mixes in a while IMO, but I'm a sucker for this type of music anyways :P.
Also did I mention the gating is super cool? Because the gating is super cool.
- urdailywater on August 20, 2012
Yay! Some more Majora love! I really really like this mix a lot. There are some fantastic ideas, the beats are well-used, and there's a good sense of progression. The slow intro was great and led into the main melody in a really nice way. My only two issues would be it falls a little into repetitious territory, and has a few odd tonal choices/transitions in a couple places. Otherwise, very nice work and a great start for a first-time poster! Heck yeah to more Majora, and great mix!
- C7 on August 20, 2012
What did you think? Post your opinion of this ReMix.
- djpretzel on August 20, 2012