ReMix:

Mega Man 6 'Synthesize This!'

Download MP3
6,870,258 bytes, 4:26, 204kbps

Play Preview
Streaming preview on YouTube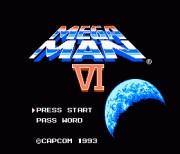 DAYUM!! I don't know if this is my favorite ReMix from Rexy or not (it might be) but it's definitely the funkiest & most disco-fabulous arrangement I've heard from her, and shows off more than a couple new tricks & techniques in addition to being a lot of FUN. Sometimes it's nice to bust loose and not be so serious, and if the cameo inclusion of the Benny Hill theme ('Yakety Sax') here is any indicator (it should be), I think she's done that with this mix, and then some:
"Greetings, all! I have come here to submit my second attempt at arranging Plant Man, and the last one to be finished for the Wily Castle Remix Gauntlet 2011. And let's see if I can pass a non-piano non-collab arrangement for 2012 :D

Still feeling keen to experiment with Plant Man's potential flamboyant nature, the direction I felt for Round 8 of the gauntlet - in which contestants were expected to fuse it with Mega Man 1's Wily Tower 1 - was to just go out and be silly with it. Both this and "Red Chamomile" were inspired by a conversation with teammate Brandon Strader about how to best approach the arrangements, in which at one point he felt that listeners would rather listen to 'covers that are the opposite of straight' (parenthesizing for political correctness); the first thing that came to mind for me though when I read that statement was the disco boom in the 70s (why my mind was stuck in the 70s for this phase of the compo, I have no idea!) and the musical storm of the Village People.

So here's my attempt in fusing the two sources together with everything I researched about the genre, though it's not a pure genre adaptation. I even attempted to squeeze in an NES part in there (which worked wonders as a good secondary melody), more ridiculous cameos (Ectogemia apparently thought the MM1 ending cameo was Earthbound when he first heard it!) and just generally being tongue-in-cheek! ...I can say I feel really positive about this track; it's one that has marked a huge turning point for me as a producer and with all the techniques I learnt from it, the experience will be transferred well onto other projects. We'll see which ones in later subs, but for now, I hope this is taken into consideration, and thanks again DarkeSword for running the compo!"
If this is Bev being silly & running with it, I think she should do it more often, as the results are upbeat, energetic, eclectic, and playful in a way that's easy on the ears without being oversimplified or repetitive. Judges were unanimous, which further suggests that her positive vibes regarding this mix is justified - OA writes:
"I love the feel on this one, has a 70's swagger that I really am groovin' on. The drums feel really good, the brass is cute, and the synth and chip additions were a lot of fun. Overall it's a really fresh-feeling track, with a lot of creative arrangement additions. The opening really brought me back to the 70's, even though I wasn't born yet."
I was... although just barely. SO OLD. While judges did note the initially weak brass, it was a minor beef; Larry adds:
"Great fusion of the two themes, with loads of readily apparent creative interpretation and personalization. Be careful, y'all, Beverly's becoming a more well-rounded musician with solid sequencing, creative backing instrumentation and strong execution like this. Totally not what I'm used to from her in terms of genres, but this is lots of fun."
Ditto that; totally new side of Rexy that shows both depth & an ability to jam out and "have fun with it" while also producing some excellent, enjoyable results!

Discussion:
Latest 14 comments/reviews; view the
complete thread
or
post your own
.
Lots of fun going on here. I love the 70's beat building up to Wily's Castle. And tossing in some Benny Hill was fantastic. I love goofy little throw-ins like that, reminds me of the Mexican Hat Dance throw in from Dr. M's Sunset Riders ReMix. Great work, Rexy!
- Crulex on September 26, 2013
Awesome mix, Rexy. You got my booty shaking, and you got me hitting that download link before I even finished listening to the song (high praise from me). Keep up the good work!
- genius11433 on December 18, 2012
Yeah i'm digging this. Pretty awesome stuff rexy, even tho the brass as others said is weak, it works in context with the rest of the instruments for the most part. Great arrangement work! :D
- WillRock on December 8, 2012
Congrats on the solo mixpost Bev! This was my favorite track of yours from the WCRG. Definitely a really different & fun direction from you! My only minor gripe is I think some live brass (instead of the samples) would've taken this mix to a whole other level. But I say that about every song using brass samples these days, so take that for what it is. The ones in this song are well done though and don't detract from the overall enjoyment of the song. Great job!!
- SuperiorX on December 1, 2012
I originally passed this up because I already had Red Chamomile, which uses similar Plant Man riffs, plus Dr. Cossack 2 is awesome. But listening to Synthesize This again, it's pretty darn good.
The 20th Anniversary rock arrangement album does a good Tomahawk Man, and of course Vurez did the whole roster. I'm personally looking for a Mr. X remix where the week's winner isn't doped up on cold medication.
- MindWanderer on November 30, 2012
Awww heck yes! This was one of my very favorite songs heard in the WCRG2011 (even if you did steal my "_____ This" thunder :-P ), so I'm really happy to see it getting front page time now! Not much more to say, just cos I love it so much. :-D
- Flexstyle on November 30, 2012
Brandon Strader;893356 wrote: You don't even need any type of collaborator anymore...
Doesn't mean we still can't team up, right? It's more than just "give a song to someone to enhance it"; it's something that combines two minds into something that we may not necessarily do alone. Besides,
you never know what you may say next...
:razz:
Nevertheless, I really appreciate the response that happened overnight! I never thought I'd have something more silly-ridiculous in my arrangement roster here at OCR, but it felt so worth it in the end. Major thank you to all!
Now all that leaves in the MM6 roster is poor old Tomahawk Man. Who's up for that one? x)
- Rexy on November 30, 2012
Yeah, this remix is great! I am glad that you are doing more non-piano stuff (even though the piano stuff is fantastic) and it'll be interesting to see where you go from here. You don't even need any type of collaborator anymore...
- Brandon Strader on November 30, 2012
go rexy! you're killing it at 1:25!
- melody on November 29, 2012
First I love Plantman stage music and you did awesome! I'll admit though I never read the info about the music when I listen to it, its' kind of a surprise, plus I don't like reading lolz, so I'm listening to it and thinking 'Wow her Plantman version was epic, and I'm listening to it while playing WoW, all of a sudden I hear a piece of music injected into the remix. I'm like I've heard that theme before'. Then I realize its' Benny Hill. LOL This has to be the kewlest, yet most unique remix on here! Thanks for the smiles and lol!:lmassoff:
- Deathbourne on November 29, 2012
Woah, this remix is excellent. o_o
- Zageron on November 29, 2012
this is easily my favorite mix from the WCRG. love it so much, glad to see it posted finally.
- Mirby on November 29, 2012
What did you think? Post your opinion of this ReMix.
- djpretzel on November 29, 2012