ANNUAL FUNDRAISER!! Help us take OCR to the next level by supporting us on
Sponsors: Bart Verbeek, Cynical Brit, Matt (aka Antidragon), Michael Beauchamp, Wesley "Bahamut" Cho.. + hundreds of supporters! Thanks!!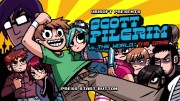 We THOUGHT we'd seen the last of the prolific Mr. Strader this year, but this Scott Pilgrim ReMix off of Dyne's annual An OverClocked Christmas album, now in its sixth year, was too damn seasonal to pass up. You should definitely check out the entire series of albums for more great tunes; Dyne's done a great job keeping it going, I always look forward to seeing who chips in & with what, and mixes like this make each year-end release something to look forward to. This xmas-rock arrangement has a little edge to it, but is still a far cry from the death metal "Mr. Hyde" side of Brandon; rock drums & acoustic strumming move things forward, acoustic guitar also gets some melody but piano does most of the heavy lifting, and then calliope, bells, and other elements give things a walkin' (or perhaps jogging) in a winter wonderland vibe. He writes:
"I made this song for my mom's birthday because my mom is awesome and has always supported my music and also because music seems like the best gift I can give. It's like people say when they get a bad gift, "It's the thought that counts", which should hopefully mean more for a home-made good gift, right? ;3 If it weren't for my mom encouraging me with music and buying me games when I was a kid (like FF7 when I was waaaay too young to be playing that) I probably would not be here remixing or making music at all! So this song is for her."
Can I get a collective "AWWWWWWW" from our studio audience? Regarding the music itself, he continues:
"The song sounds happy, doesn't it? This might be the happiest remix I've ever done, I usually do really sad stuff or doom metal because I'm that kind of person, but I have to admit - I really enjoyed making this and had a lot of laughs during the recording, maybe more than usual...All in all, this is a really fun and happy song that is only slightly out of character, but I did incorporate a lot of my punk, pre-metal sensitivities circa early 2000s."
You can hear that in the aforementioned edginess, but it's never abrasive nor does it get in the way of all the happy, so everything works out. Congrats to Brandon for somehow managing to sneak ANOTHER mixpost into the calendar year & to Dyne for putting together AOCCV6!
Crulex
on 2013-08-06 13:05:08
FlashX
on 2013-01-05 05:45:43
WesternZypher
on 2012-12-25 12:07:27
Dyne
on 2012-12-24 16:33:15
Emunator
on 2012-12-24 15:46:39
djpretzel
on 2012-12-24 15:28:56