Download MP3
6,804,920 bytes, 4:40, 192kbps

Play Preview
Streaming preview on YouTube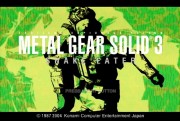 It's time to get 2013 started here on OCR, and to get it started with STYLE we've got the first mix of the year from Mansoor Nazar, aka Dj Mystix, collaborating with another female vocalist, the very talented Claire Yaxley, on a soulful arrangement incorporating several themes from the franchise in a jazz/rock ballad that really reminds me of the various tunes that have been made for the James Bond intro credits - in a great way. The ReMixer writes:
"MGS series is my most favorite games of all times. I have been looking for a way I can pay my long overdue tribute to the series and finally decided to do a "Snake Eater" remix with elements from all other major games in the series. The whole inspiration came from MGS HD Collection. As soon as I finished it, I played MGS4 again and felt so heart broken....after that, I decided to pour all those emotions into a videogame remix. This remix very clearly portrays my passion for MGS saga.

Of course, it wasn't possible without a female vocalist and I consider myself lucky to have Claire provided her vocals. What an amazing voice she has. Her beautiful voice has all the power, range and passion that was required for this track. IMO, she far exceeded all the expectation I had with the track. As for the arrangement, I didn't have any particular style in mind when creating this but I wanted to give that 80's pop/ballad feel to the track. I had a very good time making this track. Both of us put our hearts and souls in this track. Hope you enjoy this collaboration. I know I will be working with Claire for more songs to come :D"
2012 was a fantastic year for Mystix, and I've said time and again that his ability to incorporate multiple themes into a single coherent arrangement AND make that work in song form, twice now with vocals as well, is fantastic. His passion for the MGS games is apparent through both his words & his music, as he's again proven this ability with another singular ReMix. Claire adds:
"There are not many vocal tracks from video games that I would consider to be 'good' from a vocalist's perspective, but Snake Eater is both challenging and enjoyable to sing. I had a lot of fun with this track; I was able to really stretch my range and put absolutely everything I had into my performance. I'm pretty proud of the result, and I feel that I seriously owe DJMystix for giving me the opportunity to record it. I'm quite critical of other people's work, and I think his remix is fantastic and it is a pleasure to work with him."
Very cool; female vocals on VGM mixes have, for whatever reason, tended to be more of the ethereal, otherworldly, new age variety, so it's neat to see a mix that involves a bit more growl and attitude, which Claire pulls off perfectly. Not saying one vocal style is better than the other, it's just that when one is so predominant it's nice to see an exception. The arrangement has a bit more edge to it, with some interesting modulations, more aggressive guitar work than the ReMixer's previous submissions, and we get the main MGS theme on acoustic AND electric guitar. There's such a strong James Bond vibe that I almost picture Shirley Bassey singing and the infamous "Bond Girl" silhouettes scrolling and panning across the big screen, but the lyrics and familiar melodies pull me back into the realm of Snake, Big Boss, & co. - a great tribute to a great series from a great mixer & a talented, unique vocal performance from Claire provide a memorable kickoff to 2013, which I hope will be our best year yet!

Discussion:
Latest 13 comments/reviews; view the
complete thread
or
post your own
.
This song impresses the hell out of me - Dj Mystix did a great job in building the backing, and Claire did an excellent job singing here. It showcases her voice and does not need to deviate much from this since Claire's voice stands out on its own.
Definitely perked my ears when I first heard it, love this!
Edit: If there was one thing I was a bit disappointed in, it is the backing vocals at times - they lack clarity in being able to distinguish the words sung.
- Bahamut on January 21, 2013
It's almost insane how good this is. The opening minute lead-in was nice, but Claire's vocals....holy mother of god, Claire's voice is freaking incredible. This ReMix was a perfect way to start off 2013, with both the voice hammering out those lyrics so powerfully and the music building up behind and around it with such a professional sound. Claire, DJ Mystix, you both did a hell of a job here.
- Crulex on January 10, 2013
It has been a year or more since I've logged in to post, but I felt I had to comment on this track because it's just that good. Really, I thought the vocals were the original singer, maybe lifted from the game track. They were clean and powerful, losing none of their growl on those high trills, which is impressive (and difficult, I know). And the incorporation of the many Metal Gear themes into this melody left me wanting more and more and more, just to see what you could do with the other famous tracks from the series. Great work.
- Zipp on January 10, 2013
Those are some powerful vocals! Maybe Claire was the hidden member of B&B Unit: Singing Fox?
- WesternZypher on January 6, 2013
This song makes me want to have a martini. Shaken, not stirred.
- Draconiator on January 6, 2013
Definitely your best mix to date Mansoor, I've been listening to this one ever since it showed up on the WIP forums and it's [i]fantastic[/i]. Claire gives a hell of a performance that can hold its own against the original song, which is definitely saying something. You did pretty well with the sequenced instruments, and although it would have been nice to get those guitar parts performed live, this is still a top-tier OCRemix as is.
Stellar!
- Emunator on January 5, 2013
I'd give my life not for honor, but for this ReMix.
- Skyline Drop on January 5, 2013
Dayum
This is basically the "Goldeneye" of OCR.
- AngelCityOutlaw on January 5, 2013
Wow, this was incredible. Amazing use of the original MGS theme as a transition between verses. I am not entirely convinced by the apparent key change before the last chorus...but since it gets us up to the sweetspot for Claire's voice, it's hard to complain about. The first chorus is more reserved, and that was definitely the right call -- hearing the soloist soar during the final few measures creates a powerful climax to the piece.
Let's hope this is just the first of many powerful, emotive remixes in 2013 -- well done!
- BardicKnowledge on January 4, 2013
Absolutely amazing. The strong vocals mixed with the excellent mixing was a special treat for me on this boring day. Well done, everyone!
- MechaFone on January 4, 2013
Definitely getting the aforementioned James Bond vibe off of this track, and I'm diggin' it. Gorgeous vocal work by Claire, combined with djmistix's usual level of quality, equals pure awesomeness - and that's from a noted disliker of vocal Remixes. :-P Great stuff, good way to kick off the year.
- Melbu Frahma on January 4, 2013
Absolutely magnificent. The vocals are excellent, and I love the way how the various songs blend together. One of my favorite mixes in a long time.
- Amayirot Akago on January 4, 2013
What did you think? Post your opinion of this ReMix.
- djpretzel on January 4, 2013