Download MP3
5,328,727 bytes, 3:39, 192kbps

Play Preview
Streaming preview on YouTube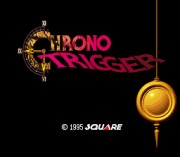 Pumping, poppy, mutating electronica with some dubstep components, lots of lofi/blippish textures, and a very funky sense of timing that picks up & breaks down pretty often make for an interesting Chrono Trigger 'Trial' arrangement from ambient, with some 'Hidden Truth' incorporated as well. He writes:
"I put down some ideas for this mix over a month ago, but the rest of it came together very quickly ...I have made some definite improvements in the production department. I actually really like this mix, and I think it is the best individual mix (not counting collabs) that I have produced to date.

The idea for this mix actually came after I listened to someone's WIP on the boards. My apologies, but I just can't remember which WIP it was. All I know is that I could hear in my head a dancey version of it. And, of course, there is zircon's brilliant version of this theme, which I listened to numerous times while working on my mix. Another source of inspiration was Skrypnyk - while I cannot come close to his level of mastery when it comes to chopping and glitching, I did try to introduce more of those elements into this mix."
Definitely a different sound for Alex on this one; I can certainly hear the Skryp influence, but just from a general rhythmic perspective, this has a few more changeups than usual. When things really get going, there's this manic swing & swagger to it that's both groovy and disturbing at the same time, and production peppers the soundscape with neat little Speak & Spell percussive FX and plenty of staccato synth pops. It's not something I would have imagined for 'The Trial' but it works rather well. I would have liked some mangling/changeups on the DSP - dropping the reverb for a break or briefly increasing it for a build here or there, for example - but there's a LOT of attention paid to synth textures & modulation throughout, and it's one heck of a fun, crazy ride. Those bass scrapes towards the end are downright sinister, and the gated ending is a nice touch, too. Overall, this feels like a playful, slightly deranged synthesizer carnival, and I mean that in the best possible way.

Discussion:
Latest 9 comments/reviews; view the
complete thread
or
post your own
.
Lot of gritty pulsating electronica going on in here. Reminds me of some of the classic stuff that were supposed to represent the internet age back in the day. I especially enjoyed the second half starting at 2:12. I really got into it the most after that point. Sweet.
- Crulex on April 23, 2013
Definite success! I'm not even one for dubstep, and I could certainly hang with this remix and thoroughly enjoy it. The elements were incorporated into the piece in ways that kept it interesting, rather than relying on trendy gimmickry as a substitute for composition and innovation.
ambient
, you should be duly proud of this righteous mix! I'll be listening to the 3 minutes and 38 seconds you've composed here for, cumulatively, days if not weeks.
- Tindalos on February 10, 2013
So, when people post Chrono mixes, I've noticed a bit of a pattern. People seem to really dig a few of the themes, and don't get me wrong-I LOVE those songs too.
But CT had a lot of great music in it, and to date my favorite take on this theme has been Spekkosaurus's piano rendition. It's great to see a very different take one of those less oft done tracks in a very different style.
Just wanted to say well done and thanks!
- LazarCotoron on February 9, 2013
Don't ask me why, but somehow amidst all the boo-bops and trimples, I hear some weird mix between Donkey Kong Country(SNES) and Chip 'n Dale(NES). Can't explain it, but this is a fierce&brave mix and I like it a lot.
- Jragyn on February 8, 2013
Yeah, this is really slick. Really infectious groove. Well done.
- SuperiorX on February 8, 2013
Mmm, this is very tasty. Badass cruch-chip-mix that I highly recommend to those that like a little chugginess to their electronica mixes.
- Gario on February 6, 2013
This is really well made. My only gripe is that listening to it the first time I had a hard time picking out the sources until later in the mix. After I "found" them, I got into the rhythm of it and it was no problem, but at the start coming into it I found them a bit difficult to pick out. Repeat listens did help a lot. Otherwise props for mad skillz!
- purplecowadoom on February 6, 2013
What did you think? Post your opinion of this ReMix.
- djpretzel on February 6, 2013