Download MP3
4,156,103 bytes, 3:24, 160kbps

Play Preview
Streaming preview on YouTube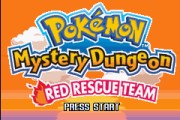 More PMD:RRT from TGH, although he's again eschewed electronica, this time in favor of a lovely, emotive solo piano piece that, while indeed a medley, does a very nice job of blending the themes in question together. Jamison writes:
"Alright, for this edition I have a solo piano medley piece remixing seven different themes from Pokemon Mystery Dungeon. It was actually made for a medley contest on a small remixer's/musician's forum (Pokemon Zone Forums, if anybody cares).

Anyway, this was originally supposed to be a remix just for "Mt. Blaze." But as I progressed into the creation of the track I ran out of ideas for it, and so I brought in a new source. And then eventually another. And another. Until I had seven total. :D (It wasn't until I was about halfway done with the song that I found out about the medley contest.)

The creation of this was very heavily inspired by McVaffe's "Cutman Sonata," and also Willrock's Sonic 2 Ending remix, "Above the Sky." I'd like to thank them both for the inspiration. ;D Oh, I almost forgot to mention that this is sequenced. I used FL Studio 9 and a WST Stein piano SF2."
Definitely some solid mixes to draw inspiration from, and while the relatively sparse, spacious arrangement never breaks into furious flurries of frenetic technique or dazzles with raw speed, what's here is a deliberate, thoughtful progression of motifs that flow naturally from one to the other. It's almost like a series of tone poems, jumping from a sequence of thematically similar ideas, all rather stark and emotive - great for staring out windows and thinking deep thoughts, in other words. The initial version of this ReMix was rejected because the piano quality & production didn't match the arrangement - thankfully the artist resubmitted this rendering, which does sonic justice to the compositional concepts. Emunator writes:
"Cool! The vibe here really reminds me of Kingdom Hearts music, you've got a knack for great source selections I'm very content with how this is sounding, and the arrangement is extremely dynamic and humanized. Always loved this piece but thankfully the production is now good enough to match."
Always great to see the revision process work, good to see continued branching out & experimentation from TGH, and yes, I think it's safe to say at this point that Jamison has basically created a one-man PMD album - he's just finished & released it track-by-track :)

Discussion:
Latest 3 comments/reviews; view the
complete thread
or
post your own
.
Absolutely gorgeous arrangement using a lot of themes. Well done getting them all to piece together in a way that seems seamless. A nice and peaceful ReMix to listen to for sure.
- Crulex on July 28, 2013
This is one of my favorite games, and you definitely had a smooth arrangement here! Loved the transitional choices, and it flows really well.
- timaeus222 on July 24, 2013
What did you think? Post your opinion of this ReMix.
- djpretzel on July 23, 2013