ANNUAL FUNDRAISER!! Help us take OCR to the next level by supporting us on
Sponsors: Bart Verbeek, Cynical Brit, Dave Oshry, From the Mind of Klink, Matt (aka Antidragon), Michael Beauchamp, TFBgaming, VinnyMac, Wesley "Bahamut" Cho... + hundreds of supporters! Thanks!!

Download MP3
2,481,223 bytes, 2:06, 153kbps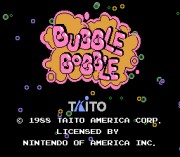 If I am ever tried for murder, I will be able to plead guilty by reason of insanity, and this song will be the only proof I need . . this is the original, arcade Bubble Bobble theme, transformed into a backwoods, redneck, hillbilly jam! So bring out the gimp y'all, and let's play some BUBBLE BOBBLE! Yeehaa! . . someday the world will forgive me for this . . .