ANNUAL FUNDRAISER!! Help us take OCR to the next level by supporting us on
Sponsors: Bart Verbeek, Cynical Brit, Dave Oshry, From the Mind of Klink, Matt (aka Antidragon), Michael Beauchamp, TFBgaming, VinnyMac, Wesley "Bahamut" Cho... + hundreds of supporters! Thanks!!

Download MP3
8,488,983 bytes, 5:13, 215kbps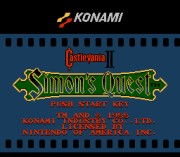 Alexander Prievert, responsible for the great Castlevania 64 ReMix recently added, also sent me this excellent 'Bloody Tears' inspired piece from Castlevania II. His style tends towards a great sonic density that makes things sound very processed and polished. He also uses a Kawai K5000S quite alot, which is cool to me because I have a K5000W myself, which I picked up on ebay a few months back. I must say, he knows how to use it a bit better than me at this point :) . . . Just listen to the insane bassline, the great guitarish sounds, the MOTION in this ReMix - it's quite amazing, and as I said, professional-sounding. Kudos to Alexander for another great one.