ANNUAL FUNDRAISER!! Help us take OCR to the next level by supporting us on
Sponsors: Bart Verbeek, Cynical Brit, Dave Oshry, From the Mind of Klink, Matt (aka Antidragon), Michael Beauchamp, TFBgaming, VinnyMac, Wesley "Bahamut" Cho... + hundreds of supporters! Thanks!!

Download MP3
3,250,949 bytes, 2:39, 160kbps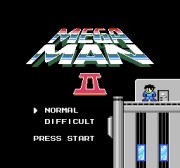 Hey - amazingly enough, it's actually been awhile since the last MegaMan ReMix was posted! This is a first-time submission, and a very impressive one at that, from Nilvah. Using filtered synths, VERY tight beats, and a cool echoey lead, Nilvah has composed a really strong ReMix of the Wily Stage music from the immortal MegaMan 2. No complaints here, as all the elements are there, come together nicely, and by any measure this is pretty damn good techno megaman ReMix, even relative to some of the other excellent MM mixes on the site. Big kudos to Nilvah for keeping the MegaMan ReMix quality indicator riding high.
Rexy
on 2011-12-30 16:49:28
42
on 2009-12-18 20:49:21
Lint
on 2008-12-11 13:28:19
OA
on 2007-07-02 13:20:43