ANNUAL FUNDRAISER!! Help us take OCR to the next level by supporting us on
Sponsors: Bart Verbeek, Cynical Brit, Dave Oshry, From the Mind of Klink, Matt (aka Antidragon), Michael Beauchamp, TFBgaming, VinnyMac, Wesley "Bahamut" Cho... + hundreds of supporters! Thanks!!

Download MP3
5,044,917 bytes, 5:10, 128kbps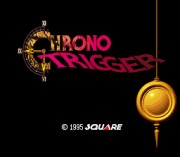 Oh my tootsie . . . oh geeze. Have I got a ReMix for y'all. . seems Mustin and Dale North have been at it again. This ReMix defies categorization. This ReMix defies the boundaries of 3-dimensional time and space. This ReMix redefines the concept of 'Goofy' in all aspects. If I were one of those people that decided what we put on the space probes we launch into deep space to represent humanity, I'd throw this on in a heartbeat. What we've got here is the Gato theme from Chrono Trigger . . . with lyrics . . . sung several different ways. And that's all I'm gonna say. You're gonna have to download it to get the real skinny. This merely reaffirms my suspicion that Mustin is an alien sent down to permeate the world with infectious tunage and confusing moral values. And he's spreading it to other ReMixers, too . . .