ANNUAL FUNDRAISER!! Help us take OCR to the next level by supporting us on
Sponsors: Bart Verbeek, Cynical Brit, Dave Oshry, From the Mind of Klink, Matt (aka Antidragon), Michael Beauchamp, TFBgaming, VinnyMac, Wesley "Bahamut" Cho... + hundreds of supporters! Thanks!!

Download MP3
2,816,000 bytes, 2:52, 128kbps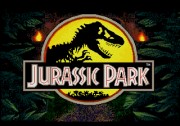 Trace Kyshad gives us our first Jurassic Park ReMix that is VERY spooky and atmospheric. I would never have thought to look to this game, which I only briefly played, for inspiration, but I'm very glad this track was ReMixed, as it's a nice composition with cool chromatic runs that are very eeeery and well-capitalized on by a synth line awash in reverb by Trace. The drum track keeps the waltz feel, which is nice as I sensed a drum loop was gonna come in that made things more traditional. The 3/4 signature works fantastically well with the effects that Trace throws in, of raptors doing their whole "roar loudly" thing and what not. Very unexpected ReMix, definitely grab it and see what I mean.
Rexy
on 2011-12-11 09:41:56
42
on 2008-12-15 22:21:33
Kizyr
on 2008-12-09 18:10:10
Lint
on 2008-12-07 17:21:40
OA
on 2007-07-02 13:05:14