ANNUAL FUNDRAISER!! Help us take OCR to the next level by supporting us on
Sponsors: Bart Verbeek, Cynical Brit, Dave Oshry, From the Mind of Klink, Matt (aka Antidragon), Michael Beauchamp, TFBgaming, VinnyMac, Wesley "Bahamut" Cho... + hundreds of supporters! Thanks!!

Download MP3
5,690,445 bytes, 3:54, 192kbps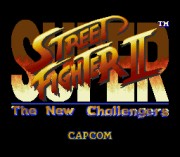 McVaffe continues his welcome return to the world of OC ReMix with more SF2 brilliance (hint: there's more where this came from, sf2 fans), this time from the previously-unremixed Super Street Fighter II. McVaffe covers Cammy's theme this go-round, which I had honestly all but forgotten as it's been a long time since I played SSF2. I'd like to say a couple things about Cammy first: 1. She's hot and 2. Given this fact, her Frankensteiner seems like more of a reward than a punishment. Right. A funky hip-hop loop vibe, dark slap bass, great cross-panned comping, piano and a breathy synth lead, and that elsuive and unquantifiable musical quality known simply as 'McVaffe' are all here in force, rounding out a slick and enjoyable ReMix. No one section really stands out - the whole thing is one extended, high-quality jam. This was not one of my favorite tracks and I wouldn't have thought it doable to this level - kudos to McV for prooving me wrong. Do you have to even think about it?