ANNUAL FUNDRAISER!! Help us take OCR to the next level by supporting us on
Sponsors: Bart Verbeek, Cynical Brit, Dave Oshry, From the Mind of Klink, Matt (aka Antidragon), Michael Beauchamp, TFBgaming, VinnyMac, Wesley "Bahamut" Cho... + hundreds of supporters! Thanks!!

Download MP3
5,254,305 bytes, 3:24, 203kbps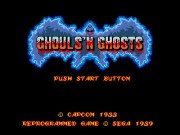 I love the Ghouls & Ghosts theme and absolutely had to pay homage to it. Perhaps a little late for Halloween, but who says Thanksgiving can't be demonic, eh? This ReMix commemorates the 1,000,000 hit mark for OC ReMix, which we're just about to reach. It's a techno rendition of the 1st level music, with a little of the title screen jingle thrown in to boot. Regardless of whether you like techno, G&G, or this ReMix in particular, what you might check out is the amount of programming. The bass, both lead synths, drums, pads, organ - all are processed not only via DSP but filtered, modulated, etc. almost constantly. Gives it kinda of an organic feel. Everything was done on a Yamaha Motif (though the one loop was imported - first time I tried that + it worked like a charm). The rhythm almost takes on aspects of surf music during the chorus, if you listen. Well, here's to a million hits and a million more - hope you enjoy.
OA
on 2007-01-02 11:24:44
Polo
on 2006-12-17 04:55:08