ReMix:

Jurassic Park 'Everything Remains Jurassic'
ANNUAL FUNDRAISER!! Help us take OCR to the next level by supporting us on
Sponsors: Bart Verbeek, Cynical Brit, Dave Oshry, From the Mind of Klink, Matt (aka Antidragon), Michael Beauchamp, TFBgaming, VinnyMac, Wesley "Bahamut" Cho... + hundreds of supporters! Thanks!!

Download MP3
2,298,789 bytes, 2:19, 128kbps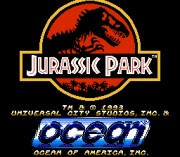 Insatiable - this is some deep-down hip-hop. Deeeeeep. As in music so funky it might even make you cry and hide in a corner somewhere. But not before shaking your head, breaking your neck, movin' from side to side, and puttin' your hands up in the air like you just don't care . . . but enough cliches - one of po's heaviest and sleaziest (in a good way, my friends, in a good way) basslines makes this track, but the drums are tight, the interpretation is creative, and I think my favorite thing about it is po's impeccable sense of timing when he does solo bits - for example, come with me to around 1'20" where a koto-like timbre is doing its respective thing - would have been real easy and perhaps tempting to quantize a segment like this so the timing was perfect, but it would have ruined the groove. Instead, it lags just behind the beat, adding hella lotta flavor and showing good attention as well. Very tasty mixage - nuff said.