ANNUAL FUNDRAISER!! Help us take OCR to the next level by supporting us on
Sponsors: Bart Verbeek, Cynical Brit, Dave Oshry, From the Mind of Klink, Matt (aka Antidragon), Michael Beauchamp, TFBgaming, VinnyMac, Wesley "Bahamut" Cho... + hundreds of supporters! Thanks!!

Download MP3
4,947,425 bytes, 5:05, 128kbps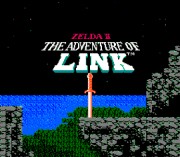 bLiNd made his OCR debut recently with a Chrono Trigger ReMix that I really dug a lot - great drums and perfect DSP. He follows-up here with an impressive Zelda 2 that, while it doesn't have some of the character that his initial offering had, establishes a solid trance groove reminiscent of something FFMusic Dj might do. Solid 4/4 beat with a few good roll builds, deep + moving bass, and robotic, reverberating trance synths round out the arsenal, with various FX and mucho filtering. When the drum pattern broke at 1'00" away from the four-on-the-floor thing and added a snare I was happy, as often this genre's drum tracks become monotonous - bLiNd thankfully avoids that pitfall by throwing in enough breaks to get some variety goin'. Also really liked the rapid-fire arpeggios at 1'32". Might go on a bit long for some, but then again it is trance, and the core ingredients all make for some good cookin'. Good, well-planned ending as well. Zelda and good electronica go better together than chocolate and peanut butter or Kahlua and Coke (you'll just have to take my word on that one), and bLiNd's concoction is no exception, fully covering the material. Recommended.