ANNUAL FUNDRAISER!! Help us take OCR to the next level by supporting us on
Sponsors: Bart Verbeek, Cynical Brit, Dave Oshry, From the Mind of Klink, Matt (aka Antidragon), Michael Beauchamp, TFBgaming, VinnyMac, Wesley "Bahamut" Cho... + hundreds of supporters! Thanks!!

Download MP3
5,788,655 bytes, 3:33, 215kbps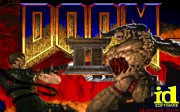 Mazedude's last mix, RiverCityRammstein, was frighteningly good, so he had a lot to live up to in terms of setting such a high benchmark for himself. While perhaps a little less intense, and from more commonly covered material, his latest mix of Doom 2 still got some serious mojo rising. Living up to its christening, this is gothic industrial, featuring choir and harpsichord merging with heavy electric beats and fx. Fading in with basic synth, there's a great vocal effect at 0'31" that ALONE makes this worth listening to. It catches you by surprise each time and is so much more effective than more cliched dance-oriented samples like "let's move", etc. - small, but a really nice touch. The basic piece evolves from there to feature increasingly heavy percussion with a variety of panned bleeps, squirts, wurls, and kachunks, and the introduction of a symphonic organ to compliment the harpsichord. The one thing this piece is (arguably) missing is a strong presence on the low end - no overt, dedicated bassline to speak of. This is another instance where I can say that I would like to hear how this mix would sound a certain way (with a bass and perhaps a bit faster tempo) but am still satisfied with the version Mazedude gave us. He seems to have a very firm grasp on the nuances of programming industrial percussion with some serious attitude, and his recent mixes have all benefited from his honing of this particular skill. Recommended.