ANNUAL FUNDRAISER!! Help us take OCR to the next level by supporting us on
Sponsors: Bart Verbeek, Cynical Brit, Dave Oshry, From the Mind of Klink, Matt (aka Antidragon), Michael Beauchamp, TFBgaming, VinnyMac, Wesley "Bahamut" Cho... + hundreds of supporters! Thanks!!

Download MP3
4,745,216 bytes, 3:15, 192kbps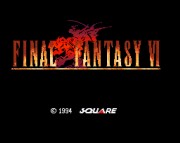 ALRIGHT - Beatdrop himself believes this to be his best work yet, which is saying quite a bundle, so let's take a closer look. This is extremely aggressive techno-industrial coverage of the Veldt theme (see Dale's more ethnic / world music take for a point of reference) - right from the very beginning, you know this ain't gonna be "easy" listening, as a rude synth belch/drone starts things off with crystalline analog percussion on top. Then the heavy, edgy drums enter along with an undulating low-end sawtooth pattern. VERY heavy I should say - the downbeat is at times devastating. Things break by ducking under a filter, then we re-enter with some great drum programming at 1'41" for the C section of the piece. Definitely a Middle Eastern influence on the original melody, which pairs up very interestingly with the heavy stylings Dain's poured on generously. I love where he's taken the theme, personally - it's imaginative, and he obviously went overboard to ensure this ReMix was chock full' o in-yer-face texture. The little solo at 1'41" had to be my favorite part - evocative of some sort of secret, demonic ritual. Only some KMFDM fans showed up and got in on the action :) Ending is full-circle back to the intro synth fx, which works well enough. Not for the faint of heart (or ear) but for those looking for some more aggressive coverage of Squaresoft music, look no further. Recommended.