ANNUAL FUNDRAISER!! Help us take OCR to the next level by supporting us on
Sponsors: Bart Verbeek, Cynical Brit, Dave Oshry, From the Mind of Klink, Matt (aka Antidragon), Michael Beauchamp, TFBgaming, VinnyMac, Wesley "Bahamut" Cho... + hundreds of supporters! Thanks!!

Download MP3
5,814,129 bytes, 5:59, 128kbps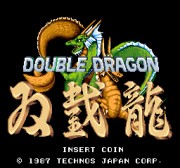 Been hankering for a Double Dragon megamix? Nintendo Guru, who's previous co-op OC ReMixes with Khalal date back to 2002 and 2000, goes solo and offers up a rockin' DD medley with the four stage themes plus title theme, constructed in Impulse Tracker over a four month period. The best way to work around some of the pitfalls of trying to create a rock and roll arrangement using decent-but-not-amazing samples and no real live instruments is via very tight, authentic programming. Particularly, NG does an ace job with the drums here, adding plenty of fills and breaks to create a dynamic, believable rhythm track that keeps the energy flowing. This is all the more vital when some of the guitar-chug chords used do border on sounding like GM - the drums pick up some of the slack. Good attention is paid to panning and stereo imaging as well, as call-and-answer instruments are placed across from one another, etc. Everything's sequenced well, though taken out of context the transitions can be spartan. Also, I'm an unusually harsh judge of brass samples - the one's used here aren't bad, but are a little anemic, without much presence to them. The effort was clearly spent, however, on doing the most humanly possible with the given soundset, and working within that constraint NG's put together a real treat for Double Dragon afficionados. Beatdrop writes: "I will say that, although the samples used aren't fantastic, they're used very well and they function well together." with an unusually-positive Protricity adding "This mix made my day. I love every aspect." I'm not one for medleys, and some of the samples and pieces of the transitions didn't float my boat as much as some of the judges, but I concur that this is a very worthy arrangement that brings the full canon of Double Dragon's musical universe in, and turns it all into something new and enjoyable. Great to see a submission so particularly worked on and perfected over a few months, and good to see Nintendo Guru still submitting shtuff as well. Check it out.