ANNUAL FUNDRAISER!! Help us take OCR to the next level by supporting us on
Sponsors: Bart Verbeek, Cynical Brit, Dave Oshry, From the Mind of Klink, Matt (aka Antidragon), Michael Beauchamp, TFBgaming, VinnyMac, Wesley "Bahamut" Cho... + hundreds of supporters! Thanks!!

Download MP3
6,340,608 bytes, 4:21, 192kbps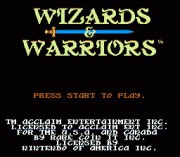 I love being surprised. Honestly, the main W&W theme has been covered up one side and down the next, and the VERY intro of this ReMix by newcomer bazooie sounds like it might be "just another techno arrangement" - at first. Then at 0'11" the vocoded countermelody comes in, and it's good. Like butta, really. Anyone familiar with Carlos' original and arranged electronic work on the Clockwork Orange score might be reminded of that, due to the already classical motif being applied the analog synths + vocoder formula. bazooie applies analog synthage courtesy Buzz, some perfect drums that are largely minimalist and basic but get REALLY intricate with the rolls and programming during portions. Towards the end a second vocoded bit is brought in, and the ending brilliantly drops out the drums and main motif and plays the two vocoded countermelodies side by side. This is a classic bit of interpretation that I'll always remember whenever I hear this melody ever again - it's that good. And that's the type of thing that makes a good mix great. It might not be the second coming, but bazooie's take on this familiar melody uses the perfect combination of elements, programmed immaculately and mixed superbly, to achieve a unique new work that is derived from the source but also very fresh and new. A textbook example of how a very explored track can still be given new life. Check out www.bazooie.com, if this mix is an indicator it'll be worth your while. Highly recommended.