ANNUAL FUNDRAISER!! Help us take OCR to the next level by supporting us on
Sponsors: Bart Verbeek, Cynical Brit, Dave Oshry, From the Mind of Klink, Matt (aka Antidragon), Michael Beauchamp, TFBgaming, VinnyMac, Wesley "Bahamut" Cho... + hundreds of supporters! Thanks!!

Download MP3
5,472,256 bytes, 4:32, 158kbps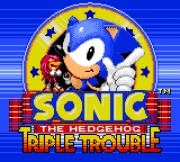 This trance mix from one of Sonic's Game Gear outings comes courtesy of a collaboration between S|r NutS and Sadorf. Lots of Absynth/Maelstrom-style ambient pads, shimmering bell textures, and some more meat-and-potatoes drums and trigger-happy synth patterns dot the introduction, which is solid, fairly direct electronica up until about 1'46", where there's some more unusual intonation thrown in. One might just think this is a fluke, but the duo keep that deviance (well, everything's relative - for trance, this is 'straying off the beaten path' to some extent) going into the second half of the mix. Things really break down at 3'11", where the percussion gets a bit more syncopation going and there's some downright jazzy flute soloing - very unconventional, well-handled, section that adds a good deal to the longevity/replayability of the mix. The rapid-fire triplets on the percussion that joins the more traditional electronic trance kick also helps out. Ending seems a little cut, and the mix is heavy on the upper frequencies in general, but aside from these two issues, this is already solid trance that's made better by significant creativity and spontaneity.