Download MP3
5,918,340 bytes, 4:42, 166kbps

Play Preview
Streaming preview on YouTube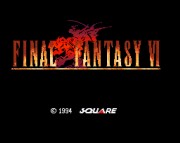 God bless Michael Boyd for finding a new way of covering the staple food FF6 Terra theme, the undisputed 'Freebird' of the unofficial game music arrangement world. Darangen had some stuffs to say so let's cover that first:
"This was my entry for March's Dwelling of Duels competition. I was always afraid of remixing this track, it's been done so many times before, and some have done it so well, but alas, here it is. The other day a friend of mine and myself were resolving a conflict that has been going on for a few months now, and some promises were made. Now, if these promises were ever to be broken, the results would be catastrophic, even deadly (in a non-literal sense). Anyways, after that conversation, this tune started rushing through my head and not much later I had the basis of my next remix, hence the name "Deadly Promises". This is also a vocal mix. Not a lyrical mix, but there are vocals in there which I performed myself."
This has classic rock epic written all over it, from the cleanly articulated and processed minute long intro to the wall of self-harmonizing vocalizing that enters immediately following. At 1'23" Terra busts out recognizably, but CHECK them hi-hats out - very tasty pattern, great arranging decision, and makes (instead of breaks) the introduction of such a familiar melody. Things then go wah with some mad-skillz guitar hero noodling that works around the melody instead of just meandering outside its periphery. Tripartite acoustic guitars close out the mix, with rhythm and dueling, counter-panned melody - again, really solid arrangement ideas coupled with effective mixing/production decisions to bring them out. I have to return to the hi-hat pattern used at 1'23", because it's fairly key in distinguishing this arrangement not just as a great, guitar-driven take on the original theme, but specifically as Michael's great, guitar-driven take on the theme. It's nigh impossible to escape the legacy of Terra ReMixers and ReMixes that have come before ye when attempting to add yourself to the long list, and attention to details and distinguishing decisions like these make a significant, cumulative difference. Like The Eagles' Hotel California, no matter how overplayed Terra is, it's still a great tune, and it's still great to hear someone imaginatively and elaborately interpret it, as Michael's done here. Very accessible, and a no-brainer for FF or guitar fans - if you know and like Darangen's work, it's a done deal, if you haven't head his stuff yet, this is a GREAT place to start, and if maybe you heard one or two of his pieces and for whatever reason weren't into them, now's a great time to turn yourself around.