ANNUAL FUNDRAISER!! Help us take OCR to the next level by supporting us on
Sponsors: Bart Verbeek, Cynical Brit, Dave Oshry, From the Mind of Klink, Matt (aka Antidragon), Michael Beauchamp, TFBgaming, VinnyMac, Wesley "Bahamut" Cho... + hundreds of supporters! Thanks!!

Download MP3
3,545,088 bytes, 2:41, 173kbps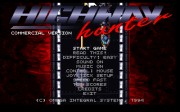 What's this? MORE Highway Hunter? While few may have heard of this game, it certainly has yielded some fine arrangements, this being our second after Blad's recent French street café thang. Suz takes this car for a different kind of spin, opting instead for a rock/funk approach that's got Steely Dan EPs, synth soloin', and overall a markedly different, more straightforward jammin' tone. Since it's the same game and the same song, and these mixes are coming relatively close together, it's interesting to see just how different two ReMixers can interpret the exact same source material. Karl took us to the streets of Europe, where we basked in the shade with our lattes whilst serenaded by violin and accordion, whereas Ty takes us to... well, it doesn't evoke a specific place and time quite the same way, but it sounds like we're in America, on an open highway somewhere, driving pretty darn fast. This entire arrangement is basically fronted by a synth lead, which there seem to be more of these days, both here on OC ReMix and in mainstream music as well. Don't get me wrong, I love a great guitar solo, and I don't expect or need for synth solos to reach ubiquitous parity, but it's still great to see oscillators holding their own. This was arranged for the same "People's Remix Competition" as Blad's mix, hence the identical source material. Apparently Blad came in first, with Ty right behind him, but when two fantastic mixers produce two fantastic mixes from a game few of us have heard of, I think we ALL win. The source melody is really rather catchy; I can see where it would have worked quite well in a DOS-era racing game. As a related side note, as a general policy I don't participate in competitions and try to avoid OCR itself being drawn into popularity contests, hence the lack of numerical ratings for mixes or any sort of "Top 50" Billboard-style standings for artists or tracks. However, PRC and many other competitions do clearly have merit in attracting serious talent and attention to source material that would otherwise go unloved, so I have to give major props to the benefits of such events, which in this instance at least clearly outweigh the detriments. It sounds like Bladiator and Suzumebachi both had fun with their respective pieces, in their unique ways, which is what counts, and I think listeners will have fun with what they've come up with as well.
Rexy
on 2011-12-15 03:16:45
OA
on 2007-07-03 13:57:28