ANNUAL FUNDRAISER!! Help us take OCR to the next level by supporting us on
Sponsors: Bart Verbeek, Cynical Brit, Dave Oshry, From the Mind of Klink, Matt (aka Antidragon), Michael Beauchamp, TFBgaming, VinnyMac, Wesley "Bahamut" Cho... + hundreds of supporters! Thanks!!

Download MP3
5,030,849 bytes, 3:27, 192kbps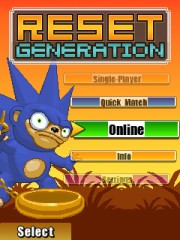 Trix may discriminate, but 'TRIX' is for EVERYONE - kids and silly rabbits alike. As we tantalizingly insisted previously with Rayza's winning mix, our Reset Generation contest had some awesome entries. It brought Hayden out of hidin', and Mr. Schwan as well, who sent in this runner-up mix that kicks out some serious funk. Drums are funky-electro-80's goodness, there's plenty of synthsugarsexmagik, but the 800-pound gorilla here is the bassline. It's mixing my chocolate. It's actually churning my chocolate... This is Tepid's best bass work to date, and the part basically carries the entire mix. Sure, there's watertight (as in frog's butt) sequencing, some nifty whole-track filter effects, percolating synth patterns aplenty, and a meaty beat, but the track's raison d'être is da bass. It swaggers between funk and disco effortlessly and is, quite simply, irresistible. You know that rug in The Big Lebowski? The one the chinaman peed on, that really tied the room together? This bassline is that rug... except it hasn't been peed on: unsullied, it ties the track together perfectly.
You need to check this joint out - it was ridiculously close to call when evaluating the competition, and if there had been a separate prize for best bass, it would have dominated. I even love the dying-filter-malfunction ending. Great, classic, instantly enjoyable work from Philip.