ANNUAL FUNDRAISER!! Help us take OCR to the next level by supporting us on
Sponsors: Bart Verbeek, Cynical Brit, Dave Oshry, From the Mind of Klink, Matt (aka Antidragon), Michael Beauchamp, TFBgaming, VinnyMac, Wesley "Bahamut" Cho... + hundreds of supporters! Thanks!!

Download MP3
8,184,482 bytes, 4:40, 232kbps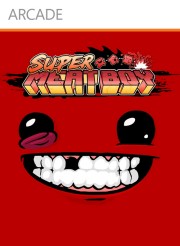 Mr. Rival succinctly writes:
"mAEt b0y is the name of the track on the original album. It was named by Danny B himself. *shrug*"
Indeed. Of course, said mix title makes more sense when you factor in Alex's previously preferred moniker, AE, a name that should ring bells made of pure awesome for anyone familiar with his works on OCR & elsewhere. This ReMix, also included on the upcoming special edition of the Super Meat Boy soundtrack which will be released on Monday, combines his larger-than-life, heavy hitting electronica with some really interesting, mangled choir samples that give things an epic, melodramatic flavor. There are plenty of crazy transitions & changeups, a rolling acoustic piano line, huge synth basses, and general sonic mayhem.
Is there more to say? It's A_Rival ReMixing Danny Baranowsky, it's hot, get it, enjoy it... wash, rinse, repeat. Awesome stuff; keep your eyes, ears, & meat on the lookout for the special edition OST release in three days!