ANNUAL FUNDRAISER!! Help us take OCR to the next level by supporting us on
Sponsors: Bart Verbeek, Cynical Brit, Matt (aka Antidragon), Michael Beauchamp, Wesley "Bahamut" Cho.. + hundreds of supporters! Thanks!!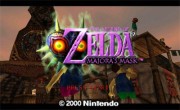 ...and we're STILL here!! It's funny how each successive NON-APOCALYPSE does absolutely nothing to dissuade the next group from insisting, with fevered certainty, that THEIR apocalypse is gonna be legit. The doomsday learning curve is rather flat :) At any rate, it is indeed the dawn of a new day, and many of you are already enjoying the Majora's Mask album Theophany released yesterday. If not, well, you probably should be - his work is excellent, his love for the game apparent, and there's a tonal consistency afforded by a primarily solo album that makes the whole experience quite the slick package. Apparently Jason's been super busy since we didn't get a chance to get mix comments from him, or a heads-up regarding the album itself, but it's enjoyed a pretty smashing viral success which is well-deserved, and the timing was certainly spot-on. So's the music, as this highlight arrangement featuring XPRTNovice (told you we'd be hearing more from him) clearly displays. Reminding me of HyperDuck SoundWorks equally resplendent Wind Waker ReMix in terms of tone and also some ambient sound FX, this acoustic jam features a wind lead, acoustic guitar strumming, beautiful strings, and numerous ambient elements to create an atmosphere that's celebratory and folksy and all sorts of good. I'm glad we're all still here, and I'm glad we can appreciate that fact with some excellent Majora tunage - check out www.terriblefate.com for more!